News & Gossip
Waiting to Exhale. A Byomkesh Bakshy Reminder From Sushant Singh Rajput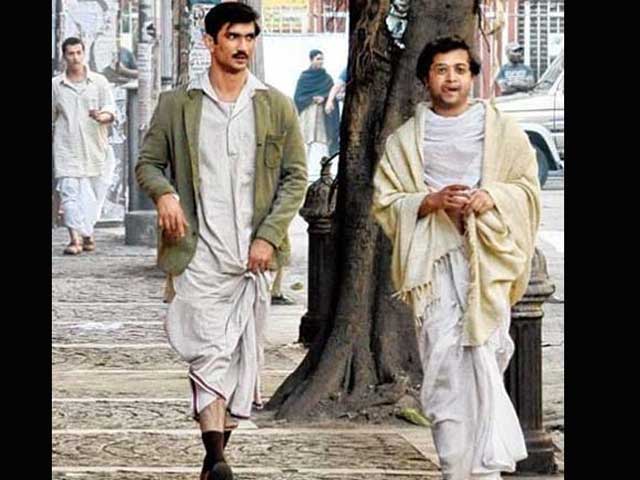 Waiting to Exhale. A Byomkesh Bakshy Reminder From Sushant Singh Rajput
DETECTIVE BYOMKESH BAKSHY! IS SET TO RELEASE ON APRIL 3
Actor Sushant Singh Rajput had us at 'ordinary.' Detective Byomkesh Bakshy!, a pre-Independence era adventure in which the shamus of the film's title thwarts afore-mentioned 'extraordinary' plan in said 'unexpected' manner, is the fictional Bengali sleuth's first big screen outing in Hindi. Brought to Bollywood from Bengal by director Dibakar Banerjee, Byomkesh Bakshy is among this year's most anticipated films.
Sushant, who's transformation into the dhoti-wearing bhadralok of last century was revealed by way of a rap video some days ago, stars as the young private eye solving his very first case in the winding, treacherous lanes of Calcutta's Chinatown. He tangles with a femme fatale named Anguri Devi, played by Bengali star Swastika Mukherjee, and a mysterious masked Moriarty. Actor Anand Tiwari is cast as Ajay, who becomes Byomkesh's Watson, and prospective love interest Satyawati is played by actress Divya Menon.
The cast also includes Neeraj Kabi, last seen and admired in Ship of Theseus, and actor-singer Meiyang Chang. Several Bengali actors have been drafted into the dramatis personae.
Director Dibakar Banerjee's is far grittier take than Basu Chatterjee's 1993 rendering of the detective stories for Doordarshan starring Rajit Kapur, which provided India minus Bengal its first encounter with Byomkesh.
Almost 20 years have passed since then, and though Bengal has seen a slew of Byomkesh films – including one with director Sujoy Ghosh playing the lead and a very popular trilogy – and a TV serial, Bollywood has been deprived of getting up close and personal with this particular literary great.
Byomkesh Bakshi's time has finally come, and so this story. Byomkesh in 15 days.