When Vicky entered the Bollywood world he was in a relationship with Harleen Sethi. After his great success, Vicky's link-up rumors and Harleen insecurities increased so they ended their relationship. Eligible bachelors have impressed many B-Town actresses with his acting skill and great humor. Vicky Kaushal made his Bollywood debut as an assistant director for the film Gangs of Wasseypur.
Vicky Kaushal's first Bollywood blockbuster hit was Masaan in 2018. Vicky was in a relationship with the Harleen Sethi, but later broke up with her and was linked up with many A-listed actresses of the Town.
Vicky Kaushal's linkup rumors were with our Chikni Chameli aka Katrina Kaif, Huma Qureshi and Bhumi Pednekar. Vicky finally reacted and said in an interview about the reaction of his parents to his dating rumors.
"I woke up in the morning and there was one link-up story in the newspaper. My mom and dad were sitting at the dining table. They were waiting for me to pick up the newspaper and read it. The moment I opened the newspaper and turned to them, they started laughing and said, 'jis pace pe ja raha hai, humein toh bataa de.' I was like, 'I too don't know what is happening.'"
He also talked about his linkup rumors with Katrina Kaif, "Rumours about me and Katrina Kaif have been going on for months, and soon it will be some other beautiful lady."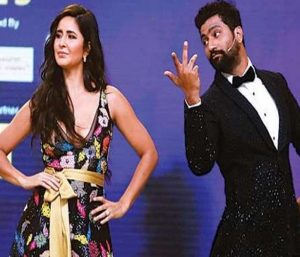 As per a report, a big revelation about Vicky and Katrina's alleged relationship was made by Neha Dhupia.