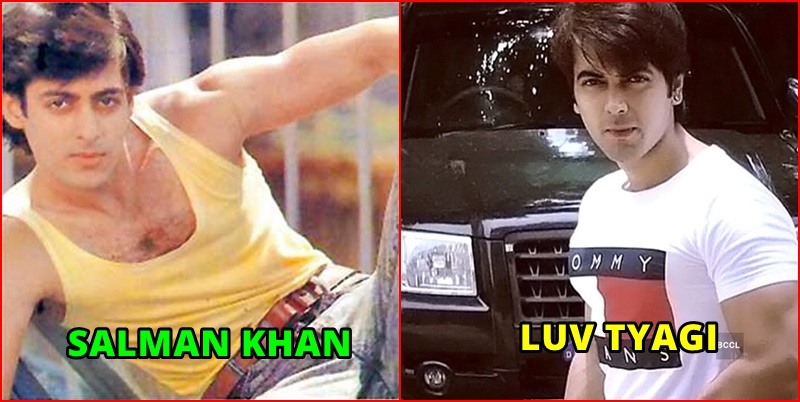 Bigg Boss 11 is going strong and the show has been able to attract lots of attention, all thanks to the interesting and controversial contestants inside the house. In just one month, the show has created more controversy than rest of the season. One contestant, who stand out among all the contestants in the house. We are going to talk about Luv Tyagi, who has been able to make some moves and grabs lots of attention in the most controversial reality show of India.
Most recently, internet has been successful in noticing something rather strange in Luv. It's infact his uncanny resemblance with Salman Khan! There is some uncanny resemblance between Young Salman Khan and Luv Tyagi. In order to prove my point, we are going to give you some pictures of Luv Tyagi, which will definitely go give you some idea of what we are talking about!
Below is the picture of a very young and handsome Salman Khan. Take a look
Luv Tyagi is a very popular face on social media. His social media picture reminds us of a younger version of superstar Salman Khan. He shares striking similarities with Salman Khan.
He looks pretty good but seems pretty lost inside the house. He has not been able to make his mark after few weeks.
Luv Tyagi is a 23-year old model, who is born in Budhana, Uttar Pradesh. He has done his schooling from DAV and higher education from BSM College, Roorkee.
Luv is very popular on social media. There are already several fan clubs dedicated to him on Instagram and Twitter.
Luv is known for his looks and killer abs in Bigg Boss house. He is trying to do make a mark but has been unable to do so till now.
Bigg Boss 11 contestants Luv Tyagi is a fitness freak, which is quite evident in Bigg Boss house. He can be spotted in gym area of the house. Bollywood superstar Salman Khan is also a fitness freak. It looks like Luv has got his inspiration from Bhai Jaan himself.
Before entering Bigg Boss house, he gave an interview to an entertainment portal. He claimed that he has everything to win the show and would do anything to win the show. If we look at his performance inside the Bigg Boss house, we are pretty confused now. Viewers have not been able to see anything from Luv.
During the interview, when he was asked about a specific question he wishes to ask Salman Khan, he said that he'll ask him, "When are you casting me in your movie?". Now that's the question everyone is going ask him!
In the beginning, Luv got lots of praise in the Bigg Boss house. But, suddenly it started to fade away. He was a member of padosis and was given a task, which didn't happen. The padosis lost the game in the first week itself. Since then, we are looking to see him in action mode. We are hoping he would do something, which would be noticed by the viewers.
Currently, I feel that he has what it needs to do good in Bigg Boss house, but he needs to do something pretty soon. The time is flying and he needs to act pretty quick.
Tell us your thoughts in the comment section down below. Stay tuned for more Bigg Boss 11 news.