Tellywood
Housemates Start A Fight After Lopamudra And Nitibha Wear Bikini In The Pool!
As Big Boss contestants are seen in a very stressful and frustrated mood because of the back to back tasks for luxury budget and captaincy. Tonight, Big boss house will be seen in a new Avatar when two hot chicks Lopa Mudra and Nitibha are going to wear Bikini and slash into the pool. These beauties would spread their hotness and increase the temperature of the house. It is also said that after playing in the pool, they invite Priyanka Jagga as well and she will get injured badly having marks on her Arm and her back.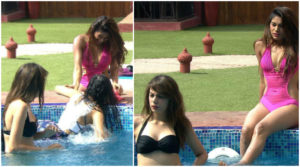 After this whole incident, all the contestants in the house will blame the two beauties and spit their frustration on them. These two beauties are going to entertain the audiences tonight. Also the closeness of Priyanka Jagga an Manu will be seen who earlier assured themselves to be in a relationship of brother and Sister. don't miss tonight's episode. Stay tuned for more gossips and in house stories.