News & Gossip
Thugs Is A Universal Film" – Aamir Khan Opens Up About His New Release 'Thugs Of Hindostan'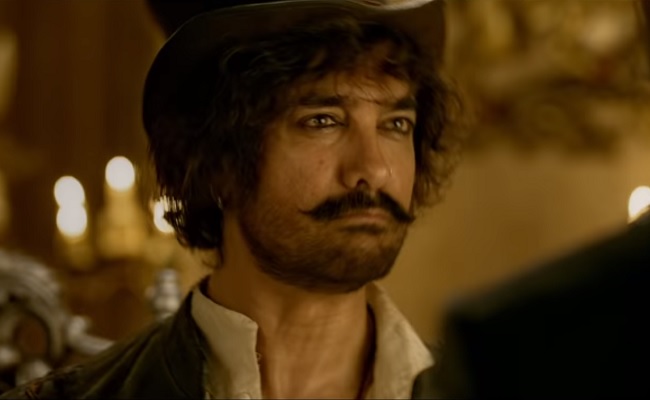 Thugs of Hindostan released this Diwali and certainly did not manage to please the masses so much! However, the lead actor Aamir Khan has an absolutely different take over the movie and his co-stars Amitabh Bachchan and Katrina Kaif and here's what Aamir Khan has to say over the release of his film Thugs of Hindostan!
Here are the excerpts from the conversation Aamir Khan had with a leading media house, about the movie Thugs of Hindostan!
https://www.instagram.com/p/BoGtlZthDUw/?utm_source=ig_embed
Are you nervous or excited about Thugs Of Hindostan?
Both. You know 2 years have gone into making this film so I hope people it.
Are you happy?
I'm happy. I think it's an ideal release for Diwali. It doesn't have any social message, it is a film you are meant to enjoy and have a good time. There's great action, it's got a very big scale and canvas. Amit ji (Amitabh Bachchan) and I are coming for the first time.
Thugs Of Hindostan is going to catering to both masses and classes?
I hope so, it's a pretty universal film and it's a very child-friendly film. Like there's action but no serious action. So it's a family film, it's a universal film.
https://www.instagram.com/p/BpWr2QIgUeY/?utm_source=ig_embed
You do very few films and in the last 10 years, besides Rajkumar Hirani, Vijay Krishna Acharya (Victor) is the second director you've worked with twice. Any particular reason?
I didn't notice that. It just happened, I don't think I planned it like that. It just happened that both Raju and Victor came up with stories I liked. In this film (TOH), the character of Firangi Mallah is so attractive that I just had to play it. It is a very well written part and Victor has written some beautiful lines.
You dedicate almost 2 years to every film. During this time, do you ever feel you are losing out on other projects?
No, because those 2 years is a journey I'm enjoying. Actually, nothing else comes into my vision when I'm doing something, so I have never felt that. Even when I was doing Dangal it took me 2 years. I really believe that at the end of the day in films, each film roughly takes 2 years of my life and we don't know what the end result is going to be but what we have in our control is the journey. So if you work on films that excite you, people you get along well with and people who challenge you and excite you then the journey becomes a wonderful journey and you hope that the film also does well. For me the journey is very important and a lot of value.
Why do you call this role your toughest till today?
You know it was a tough role because it was a very thin line I had to walk on because Phirangi is a character who is very unreliable and when he's talking to you he's winning your trust and of course at some point, he will stab you in your back. When he's winning your trust, I have to be very sincere. I have to make you believe. If I am too real I won't be enjoyable. You have to be real for the characters and at the same time the audience has to enjoy what you are doing. He's (Aamir's character) an enjoyable guy but not a good guy. He's not a guy you want around you as a friend, you want to watch him from far.
How was it working with Mr Bachchan?
I was very excited to be working with him but I was also very nervous. I didn't know how it would be working with him. Would I not be able to perform properly? I remember the first shot, it's in the trailer actually where we are circling each other and I salute him. I was very nervous for the first shot. It went off alright and then I got a little comfortable with him. Amit ji is a very warm and generous person. He makes you comfortable, he's very easy to work with. He has got a very dry sense of humour so you don't know whether he's joking or he's serious. You take a little time to understand that.
https://www.instagram.com/p/BpZA_IWBw3L/?utm_source=ig_embed
You said you were nervous about meeting Mr Bachchan, did you talk to anybody regarding how to get over the nervousness? Share some anecdotes.
I spoke to Shah Rukh because I am a smoker; earlier I used to smoke cigarettes and now I've switched to pipes. So I went to meet Shah Rukh, he was shooting in the same studio and I said Shah, tu Amit ji ke samne cigarette peeta hai? How does it work, are you allowed to smoke in front of him? So he said no problem, you can smoke, I smoke in front of him. I asked him have you ever asked Amit ji? He's like no I haven't asked him but he's never stopped me. I told him I was nervous. So Shah told me 'Pehle tu thoda dur shuru kar phir har din thoda nazdeek aa. So smoothly get into it.
How was it working with Katrina Kaif?
Katrina is a dream to work with. She's really wonderful to work with. She dances so well I get zapped.
The ticket prices of Thugs of Hindostan are going to be more expensive than other films. Do you think it will alienate a certain section of the audience?
I personally believe that ticket price should be cheaper and cheaper and believe that we should have theatres which are more economy theatres so that no matter which financial bracket you are in, you should be able to watch the film in a theatre. That's my dream. I also see the point and can understand why the distribution of Yash Raj may have done that- one, it's a very expensive film and two, I don't think Indian audiences have seen a spectacle like this. I have a feeling that it will be worth the money.
https://www.instagram.com/p/Bm0AHL-nTLq/?utm_source=ig_embed
You mentioned that Thugs of Hindostan is a child-friendly. Did you show it to Azad?
Azad has seen half the film. I have realised that Azad is not into films. He likes to watch cartoons, so maybe when he turns a little older. He saw half the film and enjoyed it a lot and he said, "Papa why is he called Azad". I said because he is trying to copy you.
Stay tuned for more updates!