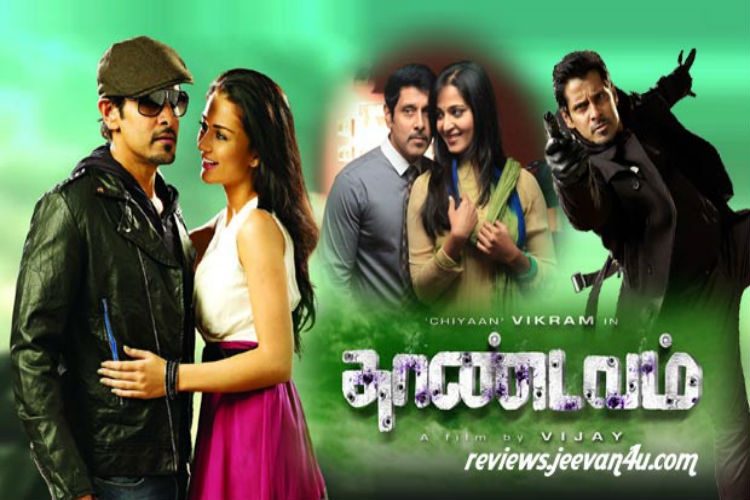 Thaandavam, Vikram's second collaboration with director Vijay, after the Rajapattai fiasco, is worth the time and money you spend on the film. Touted to be an unusual revenge story, Vijay hands over the reins of the film to Vikram who handles it with precision and elan to produce a performance worth a standing ovation.
However, what could've been a slick thriller of the kind never seen before is jeopardised due to an extended running time and unwanted characters.
Vikram plays Shivakumar, one of the best RAW agents in India. He is happily married to Meenakshi (Anushka), an ophthalmologist with a mission to enlighten the dark lives of hundreds of blind people through her foundation.
Sarath (Jagapati Babu) is Shiva's best friend and the next best officer in rank who's been working on a case of national security. He gets shot while interrogating a suspect and gets admitted to the hospital.
Shiva takes over the investigation from Sarath and travels to London to dig up valuable information vital to the case. Unfortunately, things don't pan out the way they were supposed to. Shiva is double-crossed and is left with no option but to save himself by staying low.
Meanwhile, Meenakshi comes to London to surprise Shiva on his birthday, but she gets killed in a bomb blast, which also leaves Shiva blind.
As a blind man, Shiva should avenge the death of his wife.
The plot is simple and easy to predict, however Vijay gives it the touch of brilliance and makes it interestingly engrossing. The first 15-20 minutes of the film portray events that are confusing but later what unfolds is exciting to watch on screen. The tension in the film is not spine-chilling, but of a kind never seen before.
In short, Thaandavam as a film presents itself as an unusual revenge saga with all elements one would want in a film.
Now, having called the film an unusual revenge saga let me also tell you why it failed to be the best thriller of our time.
To begin with, the film could've been easily cut by at least 10-15 minutes by keeping Amy's role minimal. The story could've been humorously continued with Santhanam, as it was originally portrayed in the film.
Secondly, if one can't understand echolocation then definitely the probability of enjoying the film is bleak. Vijay only spends close to five minutes to explain the concept to the audience verbally, whereas ideally it should've been demonstrated. The lack of understanding of the concept by majority of the audience leads to mockery of the same, which is quite disheartening.
The best moments of the film neither happen in London nor Delhi, but in Shiva's village. The marriage scene is one of the best scenes liked by everyone.
Vikram packs a powerful performance in a role never seen before. His chiselled six packs definitely drew some attention. Amy, Santhanam, Lakshmi and Nasser deliver satisfying performances, while Anushka and Jagapati Babu live up to expectations.
Music by G.V. Prakash, needless to say, was uplifting and energetic. Shot in the picturesque backdrop of London, Nirav Shah's cinematography is classy and welcoming. Vijay's direction has definitely improved since his last film, but one can still feel some vacuum in his overall presentation.
In short, Thaandavam is a perfect long revenge saga.