Actress
Sunny Leone And Daniel Weber Are Proud Parents Of Twins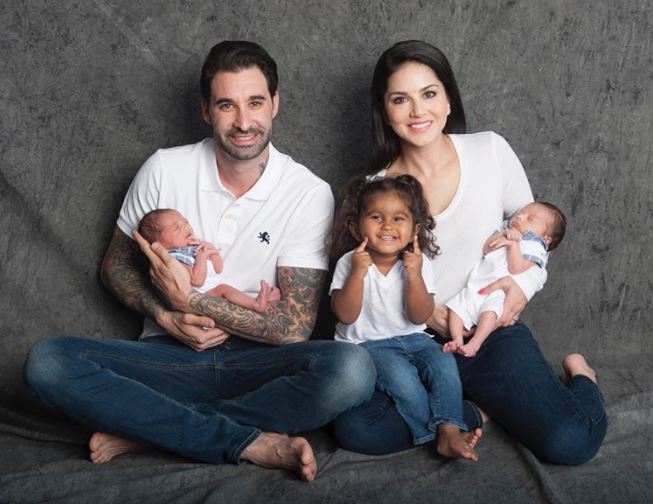 Sunny Leone and Daniel Weber have become the proud parents of twins this time. The couple took to their social media handles to announce the news. In the picture, Sunny and Daniel are seen holding their twins and is Nisha seen sitting on Sunny's lap.
Sunny captioned the picture as, "God's Plan!! June 21st, 2017 was the day @dirrty99 and I found out that we might possible be having 3children within a short amount of time. We planned and tried to have a family and after so many years our family is now complete with Asher Singh Weber, Noah Singh Weber and Nisha Kaur Weber. Our boys were born a few weeks ago but were alive in our hearts and eyes for many years. God planned something so special for us and gave us a large family.We are both the proud parents of three beautiful children. Surprise everyone!"
https://www.instagram.com/p/Bf7iOzFB7MF/?utm_source=ig_embed
Daniel also took to Twitter to share the news. His tweet read as "Say Hello to Noah and Asher Weber !!! #family @SunnyLeone :)))).  The next chapter of life !!!  Karen, Nisha, Noah, Asher  Me."
Say Hello to Noah and Asher Weber !!! #family @SunnyLeone :))))😍😍😁😁❤️. The next chapter of life !!! Karen, Nisha , Noah , Asher Me pic.twitter.com/NymfNfSRoH

— Daniel Weber (@DanielWeber99) March 5, 2018
We all know that Sunny and Daniel adopted Nisha, their daughter last year from an orphanage in Latur, Maharashtra. She was only 21-months-old at the time of adoption.
Sunny and Daniel are over the moon with the arrival of the new members. She said, "This is truely God's Plan! We didn't know we were going to have a chance to have such a big beautiful family. We are beyond overjoyed and are truely blessed to have all 3 miracles in our life. Our family is complete. The Weber's!! Lol" . Sunny further added "We chose to do surrogacy with a fertilized egg from Daniels genes and my genes. Asher and Noah are our biological children and God sent us an angel surrogate to carry our boys until they were born."
Daniel also said, "This is an amazing new chapter of our life and I believe the great chapter of all. We have been blessed with an amazing journey and looking forward to many more great things ahead. Proud Family!!!"
Aren't the twins cute? Do let us know in the section below.