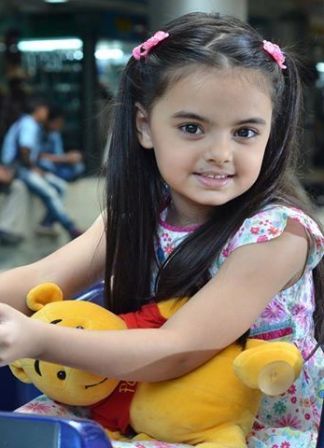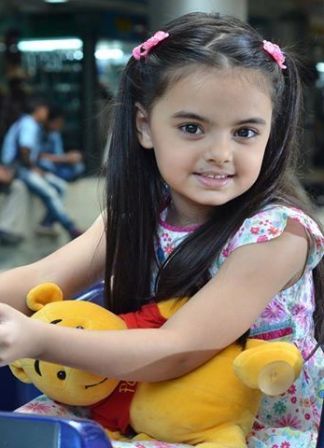 Ruhanika Dhawan Bio :
Born : September 25, 2007
Age : 9
Birthplace : Delhi
Parents: Dolly Dhawan
Education: Dolly Dhawan
Movies and TV shows: Ye Hai Mohabbatein, Ghayal Once Again
Awards: Indian Telly Award for Best Child Actress, more
Nominations: ITA Award for Desh ka Ladla / Ladli – Most Promising Child Star
Ruhanika Dhawan is the fabulous and gorgeous gril form the serial Yeh Hain Mohabattein on star plus. Ruhanika is very popular as the onscreen daughter of the couple played by Divyanka Tripathi and Karan Patel. The little talented girl is so enamoring in the serial that she has won the hearts of the audience and also the awards. She Mumbai brought up Punjabi girl has a special liking towards acting as she has acted in TVs before. She was worked in Bollywood films like Salman Khan starrer Jai Ho and Sunny Deol starrer Ghayal 2.
Family : Born on 27 September 2007, Ruhanika is nine years old. She is a student of IGSC School in Mumbai.
Acting career: Little Ruhanika earlier played a key role in the serial Mrs Kaushik ki Panch Bahueein on Zee. She played the adorable girl Ashi in the serial. Later she feautured in the mega serial Yeh Hain Mohabatein as the daughter of lead a character's daughter for whose custody, the couple has to struggle since the her biological parents have separated. Ruhanika's portrayal of Ruhi is very adoring and adds to the TRPs of the show. Now since the serial has taken a major leap of seven years, Ruhanika is now playing the role of Ruhi's younger sister born to Ishita and Raman.
In Movies: Ruhanika was seen in the movie Ghayal 2 in 2015. It was a Sunny Deol starrer sequel of the 90s hit film Ghayal. In 2014, she appeared in Jai Ho with Salman Khan. Ruhanika said, it was actor Sunny Deol who taught her Punjabi. Earlier she was fluent only in Hindi and English.
On the Ramp: She has done ramp shows as show stopper. In the event held in 2014, she walked the ramp as none other than Barbie.
Awards: She as won many popular TV show awards. She bagged the Indian Television awards for most popular Child Actress and Star Parivar Awards .
Ruhanika's future plans: Ruhanika says she would love to do acting when she'll grow up since she is very comfortable in front of the camera and loves to enact characters.
We wish her all the best !!