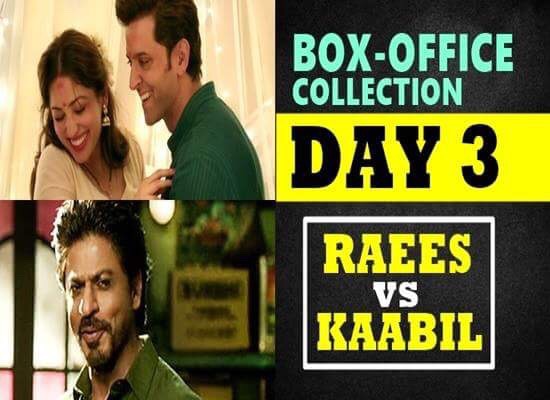 It's been pitched as the big daddy of all Bollywood clashes, and as Wednesday morning — 25 January 2017 — rolled around, the teams for both sides were in place with all the requisite ammunition. On one side is Raees, starring Shah Rukh Khan, Nawazuddin Siddiqui and Mahira Khan; directed by Rahul Dholakia and produced by Farhan Akhtar and Ritesh Sidhwani's Excel Entertainment.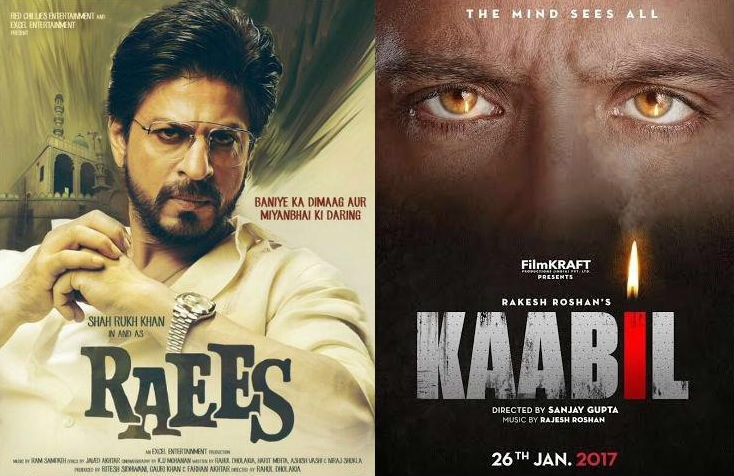 And on the other, there is Kaabil — a Roshan family production — directed by Sanjay Gupta and fronted by Hrithik Roshan and Yami Gautam. Shah Rukh Khan with Mahira Khan in 'Raees'; (R) Yami Gautam and Hrithik Roshan in 'Kaabil' Both films are opening on comparable number of screens: Raees has around 2,600, while Kaabil has 2,200 The pre-release buzz for both movies, based on their trailers, was also promising. And while they're both different enough — Raees is a period gangster flick, Kaabil a contemporary revenge drama — and should be able to find their own audiences, the mere fact of their theatrical release occurring at the same time, is enough to pitch them into direct conflict. There have been some who say this is a 'manufactured contest' — that there is enough space for both films to open, and do good business. If that were the case, Rakesh Roshan would not have spoken out — on several occasions — about how Raees' release date was unfair to his film, which had fixed on its Republic Day date much earlier.
Raees remained stable and earned 13.11 crores to take its total collections to 59.83 crores.
Kaabil also performed well on its third day but failed to beat Raees. The movie struggled in the second half of the day. Kaabil earned 9.77 crores on its third day to take its total collections to 38.87 crores.
The difference between the two movies after three days is around 21 crores. Saturday and Sunday would be the most important days as they will decide where this clash will head to. Both movies are expected to witness superb growth. The business that either of these big-ticket films could have expected to do, had they been solo releases will now take twice as long, as collections (and audience footfalls) will be halved. So which of the two films will walk away with the lion's share of the opening day collection? Which will win greater kudos from the critics and audiences? Stay tuned to Filmymantra to find out.
Meanwhile, on a related note, Pakistan has issued a No Objection Certificate (NOC) for Kaabil, which is now set to release in the country this weekend after a four-month-long ban by government on the screening of Indian movies, following Indo-Pak tensions. However, an NOC for the Shahrukh Khan-Mahira Khan starrer Raees is still awaited. The NOC for Kaabil was issued by the government on the recommendation of the committee formed by Prime Minister Nawaz Sharif. The committee headed by Minister of State for Information Maryam Aurangzeb had in its recommendations advised that the old policy that was in place before the screening of Indian films was suspended in the country should be maintained. Bollywood films have always enjoyed immense popularity in Pakistan. In fact, Shah Rukh Khan's film has Pakistani actor Mahira Khan playing the female lead, and is expected to do well there.