Bigg Boss
News & Gossip
These Pictures Of Ex Bigg Boss Contestant Aanchal Kumar's Baby Shower Party Are More Than Adorable!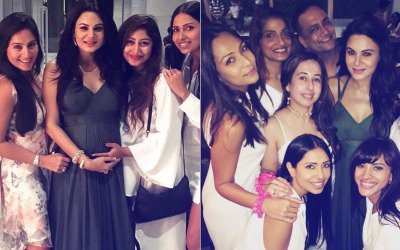 The gorgeous model Aanchal Kumar who was seen as contestant on Bigg Boss 4 is pregnant and is expecting her first baby. Aanchal recently had her baby shower ceremony and if we go by the photographs, it seems she had a blast with her girl gang.
Have a look at her photographs from the baby shower party which are surely going to make you jealous of her glowing skin and her mesmerizing beauty!
https://www.instagram.com/p/BZ-dOi1H2rC/?taken-by=kanchikaul
https://www.instagram.com/p/BZ_fKkMjGgK/?taken-by=arzoogovitrikarr
https://www.instagram.com/p/BZ9AsAIBBrX/?taken-by=tanyareigns
https://www.instagram.com/p/BZ_PT3Hj_QG/?taken-by=shamitasingha
https://www.instagram.com/p/BZ_Cw_QFVeA/?taken-by=vahbizmehta
https://www.instagram.com/p/BZ-6k97lQ_L/?taken-by=vahbizmehta
At the ceremony, Aanchal Kumar wore an olive green gown with her hair slickly parted in the middle. The theme of the party was white. Her girls- Kanchi Kaul, Candice Pinto, Amy Bilimoria were seen gracing the party in lovely white dresses.
Aanchal got married to Anupam Mittal in 2013 and this is her first baby. She is all set to embrace motherhood. The ex-Bigg Boss contestant is in her third trimester. This is her first child.
The model hasn't compromised with her work because of her pregnancy. She walked the ramp at Lakme Fashion Week 2017 for designer Gaurang Shah in an Indian ensemble. She is one of the ladies who flaunt her baby bump with perfection.
Aanchal Kumar has been the winner of the Gladrags Mega Model Contest, 1990. She has done commercial assignments for renowned brands like Rexona, Sunsilk, and Bombay Dyeing. Despite being a top model, she has also worked in a couple of films like 'Bluffmaster!' and 'Fashion'.
We congratulate both Aanchal Kumar and husband Anupam Mittal who are all set to welcome a new member in their family.