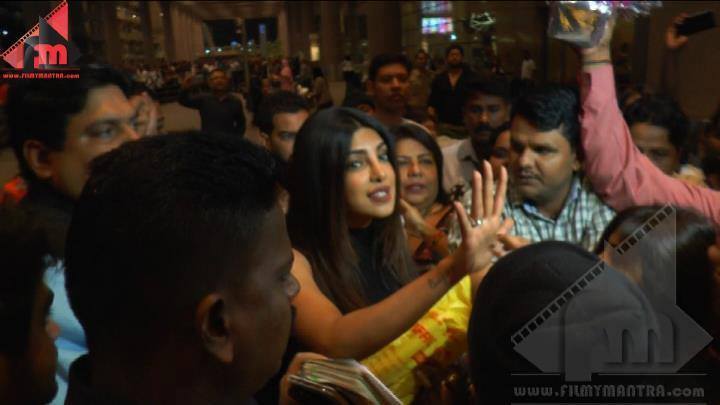 Priyanka Chopra is back to her hometown, she is here to celebrate Christmas with her close friends and family. She landed up at Mumbai Airport last night. The actress was being missed by her fans as she was away from India, so it was expected that there will be a lot of crowds, to welcome her at the Airport. The actress thought that there would a less of paparazzi, that she will be facing at the airport. But this happened to be the opposite to what she expected.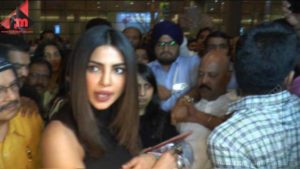 You also read: Priyanka Chopra Made Every Indian Proud As She Is Now UNICEF Global Goodwill Ambassador
There was a lot of Bouquets, Dhol beats to welcome her, plus not the less the fans and the audience waited to catch her glimpse after a so long time. As the actress was away from her hometown, she had prior planned to be with her family members during Christmas. She is known for an electrical style statement. She carried herself in a black turtle-neck dress and hair straight & neat, Priyanka was accompanied by her mother Dr. Madhu Chopra.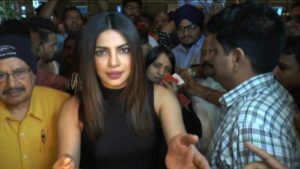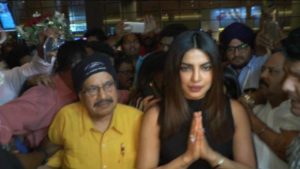 She had to struggle a bit to make her way to the car. But the actress patiently posed and also looked little tired with the entire crowd and tamasha around her.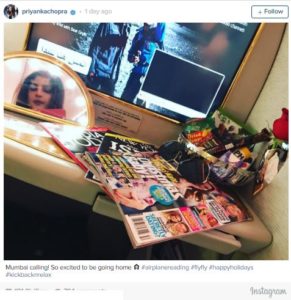 Before arriving, Priyanka shared her excitement on Instagram with a picture and captioned it, "Mumbai calling! So excited to be going home #airplanereading #flyfly #happyholidays #kickbacknrelax"
This showcases that the audience and fans have showered so much love when the actress hits back to her hometown.
Watch: Priyanka Chopra Crazy Fans At Mumbai Airport | Returns From Hollywood
https://www.youtube.com/watch?v=m5KgElMGf5Q