Tellywood
It's OFFICIAL! 'Sarabhai VS Sarabhai' Returns As Web-Series In May!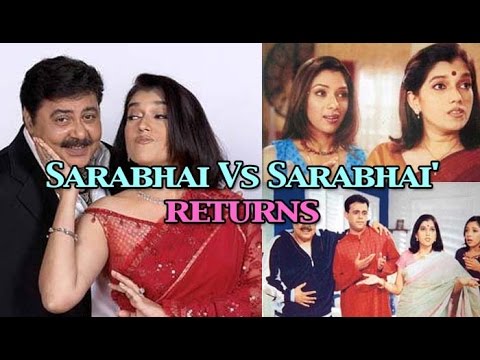 As a 90s kid who enjoyed subtle comedy and understood sarcasm, I simply loved the Sarabhais who tickled our funny bones every week. Be it the high society socialite Maya Sarabhai or her middle class daughter in law Monisha who is every bit of a miser or the Momma's boy and wannabe actor-poet Roseish who is harassed by the devil of a  father that is Indrvadhan or the sensible Sahil Sarabhai… and how can we forget Madhu Phupha and the quirky engineer Dushyant?! Every character had a crucial role in the sitcom. Not only me but all the fans were disappointed when the show went off air because of low TRP ratings but we kept ourselves sated with reruns and somehow as time passed, those jokes and the memes became more and more relatable. Since time immemorial, fans have been vouching for the comeback of this adorable Gujarati family and it seems like 11 years later our prayers have been answered as the Sarabhai family is making a comeback!
The internet went berserk when the producer of the show JD Majethia hinted at a "good news" along with the reunion photo of the Sarabhai vs Sarabhai cast that went viral last year.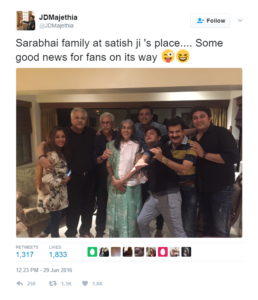 Now after a hiatus of 11 looooonnnnggggggg years, the Sarabhai family is FINALLY back to entertain us with their antics and humor. Only this time, the Sarabhais are going to be back as a 10-part web series which would be telecast on the entertainment portal, Hotstar in May. The show will see a 7-year leap and the central character of the show will be seen in improvised roles of their characters.
The shooting of the show will begin end of March. Actor-producer-director Jamnadas Majethia was quoted as saying to a leading daily,
"After the show wrapped up, all of us, including the actors, got busy with other commitments. However, at every public event and even at private functions in the last 10 years, I was always asked when Sarabhai vs Sarabhai was returning. It was public demand which finally compelled us to set aside everything else and concentrate on developing a quality script which lives up to the audience's expectations. Shooting will continue all through April. We are targeting a May release."
The show, which aired on TV in 2004, will be also introducing new characters and the looks of the principal characters of the show are also likely to change.