News & Gossip
Nora Fatehi's Sizzling Avatar In Arabic Version of Dilbar Takes The Internet By Storm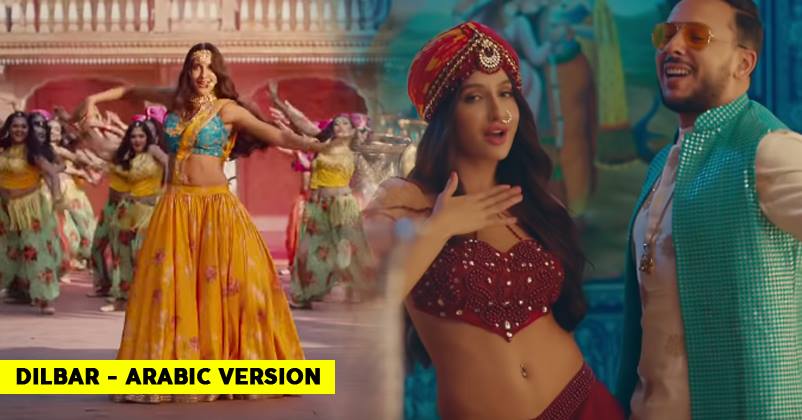 The recreation of Dilbar is inarguably the most popular and loved Bollywood songs of the year, all thanks to the amazing dance of beautiful Nora Fatehi. It is one of the very few instances where the recreated version of 90s chartbuster featuring Sushmita Sen went on to become a huge success.
Nora Fatehi perfectly recreated the songs. The song soon went on to be the biggest song of the year. People fell in love with Nora after watching her sexy moves in the reprised version of Dilbar.
Nora is back in the news for featuring in another version of Dilbar. This time, she has featured in the Arabic version of highly popular Dilbar. Boy, we are loving every bit of Nora's presence in the song. first of all watch the video down below.
Nora Fatehi is looking gorgeous as ever in the song. Her moves and expressions are more than enough to bring any men down to the knees. For some reason, this version of Dilbar looks even better. Nora has taken the internet by storm literally with her seductive moves. We bring you top comments down below.
https://twitter.com/Pakka_Chichora/status/1068448674009669632
https://twitter.com/kungfupanda_roh/status/1069164389041954817
https://twitter.com/RPHindocha/status/1068800461417926657
https://twitter.com/ShivaniBarun/status/1068460576127381504
https://twitter.com/nazhalaydi/status/1069365269787754496
What do you think of the Arabic version of Dilbar? Tell us your thoughts in the comment section down below. Stay tuned to this space for all the latest Bollywood updates.