News & Gossip
Neha Dhupia and Angad Bedi take their baby girl Mehr on her first road trip this New Year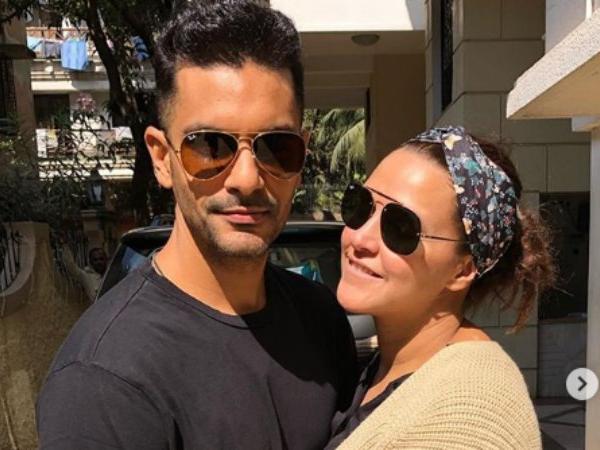 Neha Dhupia and Angad Bedi had got married in a private Anand Karaj ceremony in presence of their family and close friends, earlier this year! There sudden marriage had given rise to a lot many questions and speculations which were initially shut down by the duo but they later turned out to be true! Neha Dhupia and Angad Bedi became parents 6 months post their marriage and their daughter, Mehr Dhupia Bedi has now turned one month old! The couple has recently shared a beautiful picture as they leave for the first road trip of their daughter Mehr, this New Year!
Angad Bedi and Neha Dhupia took to their respective Instagram accounts and shares photos of the two all geared up for their road trip. Angad had captioned his post as, " #roadtripping with my girls …chaliye phir @nehadhupia."
https://www.instagram.com/p/Br7KAbyln1A/
On Mehr Dhupia Bedi's birth, Neha Dhupia had shared a beautiful post on Instragam and had introduced her saying, 'Mehr Dhupia says hello to the world' Well, it's been a month to this already as Neha Dhupia just posted a video of her little one 'kicking it' on turning one month old today. "Our baby girl … been spreading joy and kickin around for a month … happyonemonth our little Mehr …" writes Neha while Angad cherishes the moment as a little "blessing"!
https://www.instagram.com/p/BrhJZJLndpF/?utm_source=ig_embed
Neha Dhupia had hidden her pregnancy for six months reasoning, "I was worried people would stop offering work. It was a good thing my bump wasn't showing till the sixth month because appearances matter here, and one might be assumed to be unfit for a job. Fortunately, my energy levels are high."
https://www.instagram.com/p/Bq1Y_9_H0X_/?utm_source=ig_embed
Stay tuned for more updates!