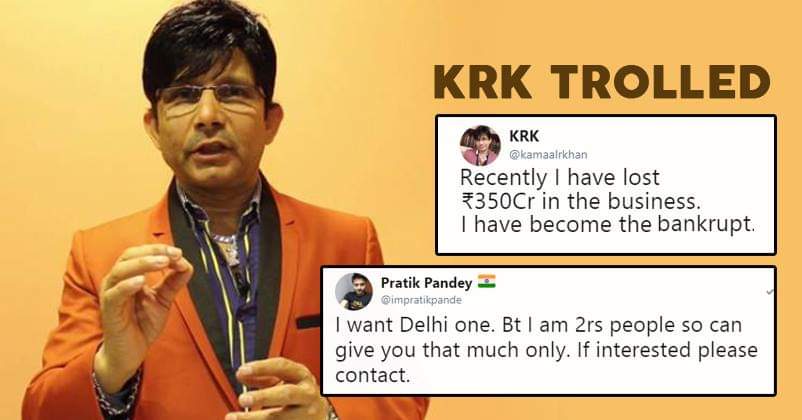 Self-proclaimed film critics KRK knows how to stay in the news. He is inarguSelf-proclaimed most controversial celebrities in the industry. He makes headlines for all the wrong reasons most of the time. However, his antics on social media do make for an epic entertainment.
Just recently, He shared a status that said that he is going to Dubai and will be able to come back to India only after 5 years. This status got a huge response from netizens, as they took it as a good news as KRK was leaving.
Over the years, we have seen KRK's antics. One thing that comes to our mind is that he'll do anything to get attention from anyone. He leaves no stone unturned in order to get noticed by his followers. However, he has never got sympathy from them ever.
Yesterday, KRK took to Twitter to announce that he has gone bankrupt blaming his brothers for the same. His Tweet reads,
 "Recently I have lost ₹350Cr in the business. And we all six brothers have separated our businesses. Therefore I have become the bankrupt. My all properties in Mumbai, Delhi, Roorkee are available for sale. Pls let me know if anyone is interested to buy any of my property. "
In another Tweet, he wrote, "I started all my businesses but no business was in my name. So my 5 younger brothers snatched my all businesses and now I don't have any business at all. But I will start again soon. God bless my black hearted brothers."
However, as always KRK got brutally trolled. Check out some selected comments down below.
https://twitter.com/impratikpande/status/1069100268703424512
https://twitter.com/Chintscrap/status/1069098787346546688
Basically now u r officially pic.twitter.com/OXC6lsHYOX

— आलू बोंडा (@ek_aalu_bonda) December 2, 2018
Zupadi aur Chai ki Lari ko properties nahi bolte

— ચિ૨ાગ (@chirag_rachchh) December 2, 2018
Tera Mumbai ka 10×10 ka kholi khareedega main

— Alok Badri (@alok_TTID) December 2, 2018
How many zero comes in 350CR??? Do u know that??? Baat karta he….

— Hemal Shah 💖 (@Hemal30) December 2, 2018
After getting trolled, KRK tweeted, "Dear people chill. I haven't lost my father's money. I came to mumbai with few rupees and earned all money myself. So I have lost my own money Only. I will sell my properties and start again. Don't worry for me."
Do you think KRK will ever learn? Tell us your views in the comment section down below.