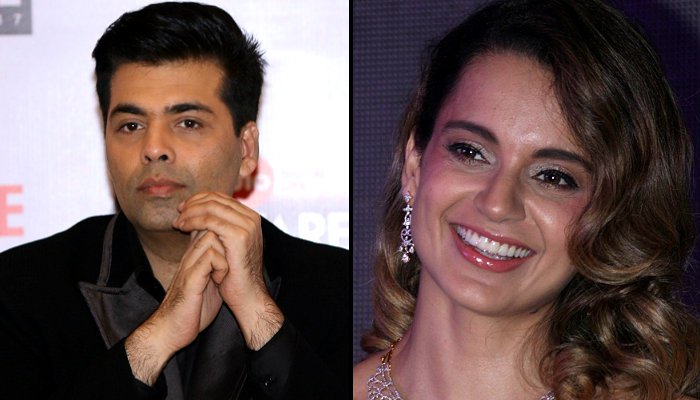 Dear Karan Johar,
Till this date I thought you were a bright, prolific and maverick Bollywood personality who has this magic wand to do a humungous amount of creative work. You say that you are a man of opinion. For years, as a nation, we have heard your views on almost everything. We listened to you as you spoke about your lonely life, how you dealt with depression and your relationship with stars. And we celebrated you for your work, which is hugely entertaining if mediocre. We also celebrated you for your opinions. But when Kangana Ranaut used the same right to voice her opinion on your show Koffee With Karan, you called it 'playing a victim card or woman card'?!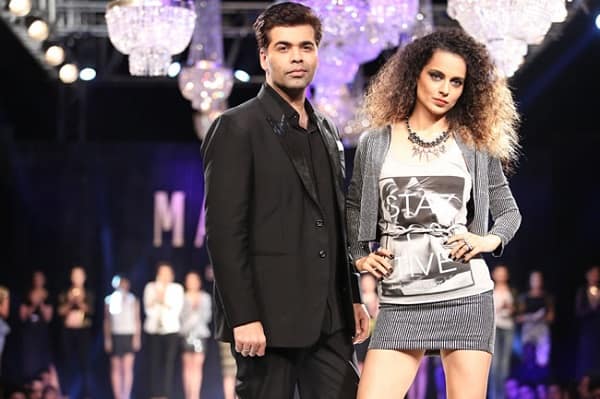 It is no secret that I am fond of you. I have always stood up for you when you were right and have championed you for your life decisions — whether it was to come out as gay and retaining the right to not spelling it out in those many words, or whether it was about you becoming a parent to two kids through the medium of surrogacy. I admire you and I adore you for that. I always tried to seek the real person that you are. And you were very beautiful in the above two circumstances that you shared. I have admired you for being true to yourself. I have to tell you, in the same vein, that kindness and truthfulness are difficult qualities to keep in a world that wants you to lie and fake it till you make it. And that's the quality of a true star. A star like Kangana Ranaut. She doesn't need to play the 'victim card' because she is not a victim. You don't become a victim if you state facts and call people out for their bigotry. You don't play victim if you stand there naked and bare and don't give in to the demands. She has never seen a reason to apologize.
I stood up for you when you were "victimized" into issuing an apology for Ae Dil Hai Mushkil for casting a Pakistan-born actor. You were the one who was victim enough during your pet project with Ayan Mukerji called 'Wake Up Sid', when the same Raj Thackeray threatened you for using the word "Bombay". I stood for you when people said, 'He has the world at his feet and faces no trauma' — almost making an assumption that the rich and famous don't have a heart.
Image Source: GQ
Therefore, I found your reactions — the complete lack of any empathy — very disturbing. And remember 'My Name Is Khan'? How you apologised to the Shiv Sena? Well, that film was a flop. The little business it did was because of the controversy. It was one of your shoddiest films ever. As an audience member who is privy to firsthand cinema gossip, I can tell you that many have been thinking that it is some sort of a strategy to promote your films. I don't blame them. We see a pattern. And over the years, despite all the money and given the pedigree cinema family genes, you haven't been able to devise a strategy minus an apology. That's what people call being a victim. I empathise with you.
I stood with your vulnerability when you decided to not spell out your eternal truth, your sexuality to the world. I protected your right to have your coming out the way you want it even when most in the LGBT world stood against you. Since you brought it up, this what is called being a victim, though I stood for your right to your fears.
I stand for Kangana's bravery now.
Image Source: GQ
She stood up to the bigwigs of cinema, with their pedigrees, even as an outsider. She dared to run the risk of losing out on work with big banners. She has lost a lot because of refusing to endorse fairness creams. She braved it. She stood her ground. About nepotism, well, all the "outsiders" were insiders from your circle. They all were your assistant directors. When it comes to actors, you have one successful name (who is an 'outsider') — Sidharth Malhotra. Who else? Well, you have the right to cast whoever you want in your films. You have the money, you have the right. Film making is not like democracy. You are entitled to your right of making your kind of films and casting your kind of actors. You could, however, have been more dignified in your comments. You made fun of her understanding of English. Why don't you try speaking Haryanvi like she does, or for that matter, your parental tongue, Sindhi? And about her understanding of nepotism, well, how many of the non-cinema hoity-toity, regional tongued, dark and young, nonperfume-breasted, non-attitude crested people have you cast in your film? They all come from a certain prototype. Don't they?
You suggested Kangana "if you are so terrorized by the industry, leave it". Nobody owns the industry and has no right to ask others to leave. So, doesn't your comment make you 'movie mafia'? It is hard to see this statement as anything other than bullying.
We know Kangana left you baffled if not angry and we know exactly why. For the first time ever, an outsider, an actress left you feeling slighted on your own show where you talk with such abandon and flippancy with your film buddies. It's like a lion being beaten in his own den and it sure feels humiliating. For the first time, you were meeting this young outspoken woman who somehow didn't know how to, and didn't want to, mince her words.
Your hypocrisy clashed with Kangana's supremely confident attitude on your show and you sure didn't like it. Not knowing where it comes from added to your confusion. But then, is it fair to say Kangana is playing the victim card for just speaking her mind and exposing a harsh truth about nepotism and Bollywood? By that measure wasn't Raj Thackeray playing the political card when he almost stalled your Diwali release Ae Dil Hai Mushkil? But, of course, we never heard you say that. Every question on Raj Thackeray was met with a pin-drop silence. Perhaps Kangana is a weaker foe whom you can easily take on. How very convenient!
So, what does nepotism mean? Oxford dictionary defines this word as, "The practice among those with power or influence of favoring relatives or friends, especially by giving them jobs." Nepotism isn't just about working with your son, daughter or family. That, of course, is a part and parcel of it. Nepotism in the context of film industry works when you are biased towards launching or working with kids of your own film friends, at the cost of outsiders. You speak of having launched a string of directors. The films of all these directors were produced by you and it starred your favorite actors. That includes every single one of them including Badrinath Ki Dulhania, Ok Jaanu, Dear Zindagi, Ae Dil Hai Mushkil, Baar Baar Dekho, Kapoor and Sons, Shaandaar, Humpty Sharma Ki Dulhania, Yeh Jawaani Hai Deewani and many more. If you need any further proof, please revisit all the above-mentioned films.
Let's talk about Kangana now. Kangana has come up the hard way. She has been at the receiving end many times. And she chooses to speak about it when asked. She is not on Twitter or any other social media where she keeps sharing her thoughts. She spoke about Hrithik Roshan when she was asked. You proudly associate yourself with 'Kapoor and Sons' and often mention it as one of the best films of the last year. The film was directed by Shakun Batra. Why don't you talk about your own films so proudly? The regret of making bad films with superstars is so clearly reflected in your interviews. You yourself called Kuch Kuch Hota Hai a silly film. In complete contrast, look at Kangana who is so damn proud of her work. Just look at her repertoire of creative work and as you yourself have confessed in Koffee With Karan.
You mentioned that you retained all parts of the show that had Kangana as if you did her a favour. Well, that's what decent talk show hosts do. Thank you for standing up for the values of talk show hosts. But no thanks, when you make it sound like some sort of a favour. You also mentioned that you sat quiet during your show as a sign of respect for your guests. That's a lie. You sat quiet because she had a comeback to everything you said. You couldn't speak because she sat upright, with attitude on her face, and refused to budge or laugh when you joked. She went through your shows as an ardent fan would and pointed out that you had made fun of her English. And in your retort, at the London School of Economics, you made the same folly — you made fun of her English.
I value Kangana for what she is. You don't need to say she's playing the 'woman card'. Woman card? Gender is a biological accident, Karan. If you are so confident that she is using the woman card, kindly be brave enough to tell us how much your actors get paid, in comparison to your actresses?
You proudly associate yourself with Kapoor and Sons and often mention it as one of the best films of the last year. The film was directed by Shakun Batra. Why don't you talk about your own films so proudly? The regret of making bad films with superstars is so clearly reflected in your interviews. You yourself called Kuch Kuch Hota Hai a silly film. In complete contrast, look at Kangana who is so damn proud of her work. Just look at her repertoire of creative work and as you yourself have confessed in Koffee With Karan. You have often spoken about submitting to demands of the industry at the cost of creativity. You have mentioned you are not original. Here's the contrast: Kangana came from nowhere and still worked in Bollywood on her own terms. You have been raised here, worked here and still aren't able to do the work of your liking.
If you remember, Kangana spoke about how she chooses a brand. She said that she follows certain sets of values (not because she needs to but instinctively). If an actor can put so much thought before signing a brand, imagine her efforts and dedication to bring out those characters alive on-screen. If her values clash with a rampant hypocrisy of film industry and she decides to speak about it, where do you see the problem? It's a change, can't you see? Or are you terrified of this change? Her appearance on your show brought a certain conviction which only a true artist can display.
Yesterday, you had no one watching you. Today, your daughter Roohi is watching. Watch your words when you bully women who speak in a vernacular tongue, not-so-privileged people and women who stand up for equality. Roohi will have the same struggles. Parents are always expected to meet the expectations of their children, Karan. Any father would love to bring up a child like Kangana. Hope Roohi grows up to be like Kangana and fights vociferously for the rights of her father's sexuality, her authenticity — just as Kangana is fighting for her own real space in a prejudiced world. Hope your kids, little Roohi and Yash see you are the brightest example of someone who stands up even for people who stand against you, people who dare to slam you to your face, on your couch and in your space, fearlessly and unapologetically… because you care for them and you fucking care for free speech.
As you have often mentioned, the show is flippant and is not supposed to be taken seriously. Then why not take Kangana's comments in a light-hearted manner and let them go? What happened to your great sense of humour? Sorry to say, Karan but what Kangana has said is nothing but the truth. And truth is always a bitter pill to swallow.