Specials
Famous Bollywood Actresses with Mustaches !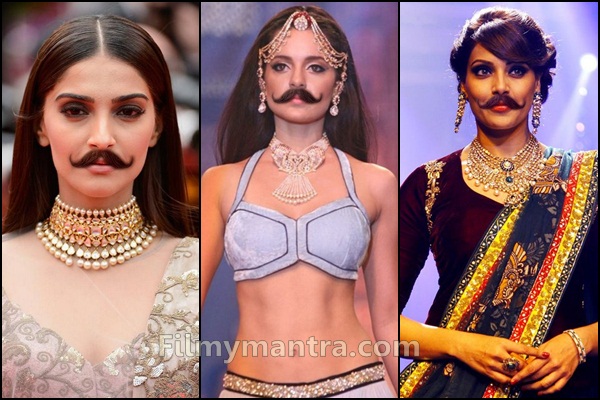 Have you ever imagined how the Bollywood actresses with Mustaches would look like? It may seem a bit weird to even think about. But, a Photoshop Designer on Rediff has not only imagined the unusual thing but portrayed them with an ease. It was actually a conceptual idea from one of the promotional posters of the Upcoming Movie Mortdecai  starring Johnny Depp and Gwyneth Paltrow in which the Mustache plays a main part where both of them are seen having on the similar Mustache.
Lets have a look of the similar conception of having mustache on girl's faces where the girls here are not the ordinary ones but the Top Bollywood actresses including Deepika Padukone, Alia Bhatt, Sonam Kapoor, Anushka Sharma, Kareena Kapoor, Alia Bhatt, Bipasha Basu, Kangana Ranaut, Jacqueline Fernandez, Priyanka Chopra and Lisa Haydon.
Photograph Credits: Getty Images/Rediff Archives/Abhijit Mhamunkar
Disclaimer: This content doesn't mean to hurt any one's personal feelings . It's just a piece of Humor so, just have look for fun.