Tellywood
Ex- Bigg Boss Contestant Diandra Soares Suggests That Bigg Boss Winner Is Already Decided
Bigg Boss 10 is in the final month and will only be there for the next three weeks. Season 10 of Bigg Boss started on October 16 and will be ending by the month end. Till now, we have seen all sorts of emotions and drama in the Bigg Boss house. The show started with 14 contestants, 8 commoners, and 6 celebs. Then we also saw a wild card entry of 4 contestants, which didn't last long. Recently, the makers even threw Om Swami out of the house due to his cheap behavior. He threw his pee on Rohan Mehra and VJ Bani and that's why Bigg Boss threw him out. At latest, Bigg Boss ex-contestant Diandra Soares has suggested that Bigg Boss winner is already decided.
Also read: Bigg Boss 10: Here's How Salman Reacted To Om Swami Throwing His Pee On Bani And Rohan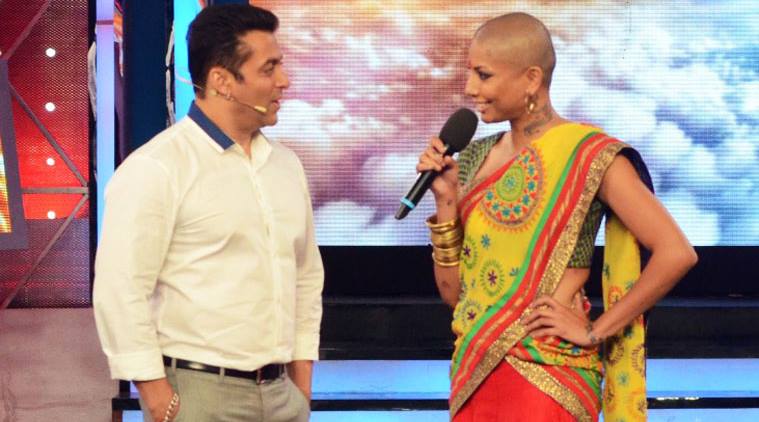 After seeing Bigg Boss fans going crazy for to defend their contestants on Twitter, Diandra posted a shocking tweet. Diandra says that all things are already set in the Bigg Boss show and fans are just wasting their time for fighting against each other. Interestingly, Diandra has also been the part of Bigg Boss 10 last weekend show. As per Diandra, things aren't like as it seems to the audience. This is actually a big statement from Diandra and it has really a big meaning to it. In the recent past, we have also heard that Bigg Boss is scripted. So after knowing about such things, Bigg Boss will certainly lose its audience, who vote for their favorite contestant in the show. Right now, there are only seven contestants left in the house and we are all excited for the results.The contestants are VJ Bani, Rohan Mehra, Lopamudra Raut, Manveer Gurjar, Mona Lisa, Nitibha Kaul and Manu Punjabi. Well, in the remaining days, the housemates will feel safe as there is no Om Swami to trouble them again.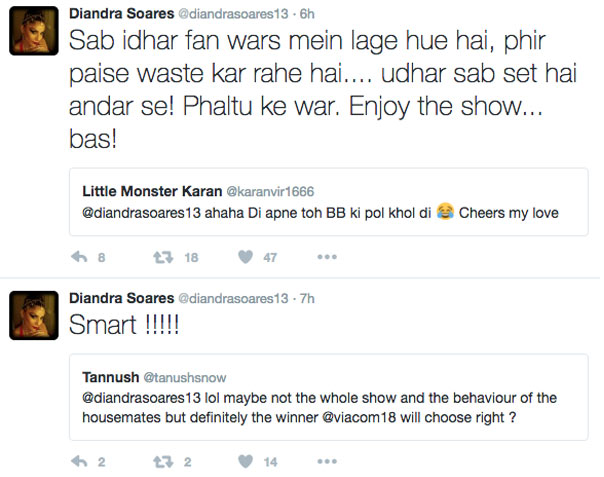 Overall, Diandra Soares comments will certainly alarm the fans about the scripted happenings in the Bigg Boss house. Let's see how things take a turn by the end of the season.
Who do you think could be the winner of Bigg Boss 10? do let us know in the comments section below.
Also watch: Shocking! Om Swami Pool Lopamudra Dress And Touches Inappropriately
https://www.youtube.com/watch?v=Zf9huasfy7c