Celebrity News
Donald Trump's India Visit Made Twitterati's Go Crazy With Tickling Memes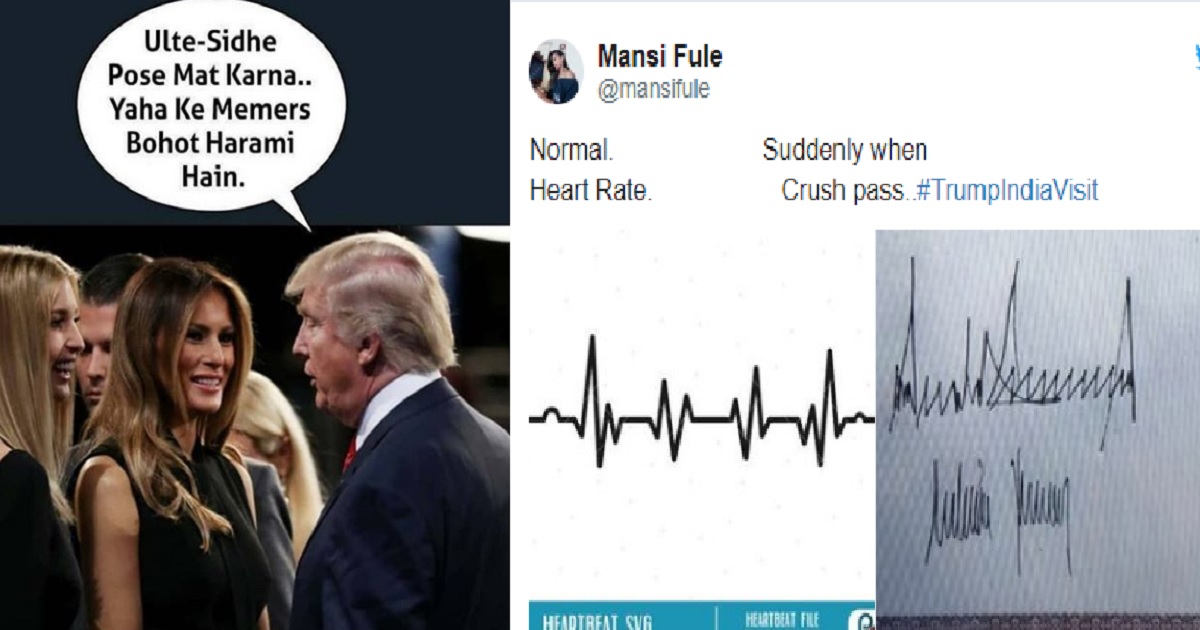 US President Donald Trump visit to India yesterday along with wife Melania Trump and daughter Ivanka. Our Prime Minister Narendra Modi received the Trumps at the Sardar Vallabhbhai Patel international airport in Ahmedabad went through a longest rally to Sabarmati Ashram to spend 15 minutes and had numerous moments together.
Since their arrival sparked tons of reactions from netizens, Hashtags such as #TrumpIndiaVisit, #NamasteTrump, #TrumpInIndia have been trending throughout the day.
When Your American Friend Forgot Your iPhone Gift…#TrumpInIndia pic.twitter.com/mhNyY5LH5X

— Babu Bhaiya (@Shahrcasm) February 24, 2020
President Trump and first lady Melania first paid a quick visit to the Sabarmati Ashram and then proceeded to the 'Namaste Trump' rally at Motera stadium. Both personalities gave a tremendous speech followed by Trump's speech invoking Sachin Tendulkar and DDLJ, and his visit to the Taj Mahal has since inspired hilarious jokes and memes from tweeple.
Donald Trump's visit to the Sabarmati Ashram and his signature on the visitor's book.
Normal. Suddenly when
Heart Rate. Crush pass..#TrumpIndiaVisit pic.twitter.com/k9kMiO2bTD

— Mansi Fule (@mansifule) February 24, 2020
when ur attendace is very low and teacher asks you to bring a letter from Dad to sit in the class #NamasteyTrump pic.twitter.com/3V0OTCb5Mp

— prayag sonar (@prayag_sonar) February 24, 2020
Trump drew his ECG reports instead of signature to show us that he loves India from his heart #TrumpInIndia#NamasteyTrump#TrumpIndiaVisit pic.twitter.com/wZjCMnWVZd

— CHIRAG (@Aladdin_ka_) February 24, 2020
http://twitter.com/DoctorrSays/status/1231801685204320257
#TrumpInIndia #TrumpVisitIndia
Some unseen pictures of Trump and his family from the Taj Mahal's visit. pic.twitter.com/bnWtr6BsZu

— Kriticism (@Indianpunner) February 24, 2020
Odisha based sand animator Manas Kumar has created a special piece of art in honor of US President Donald Trump and wife Melania Trump. He created an art piece using sand so beautifully present in front of the Taj Mahal. It took six hours to create this art.
Read More: Six Major Things India Is Doing For Donald Trump's First Visit Our India
Sand animator Manas Kumar has created an art piece in which Donald Trump and Melania are seen in front of the Taj Mahal.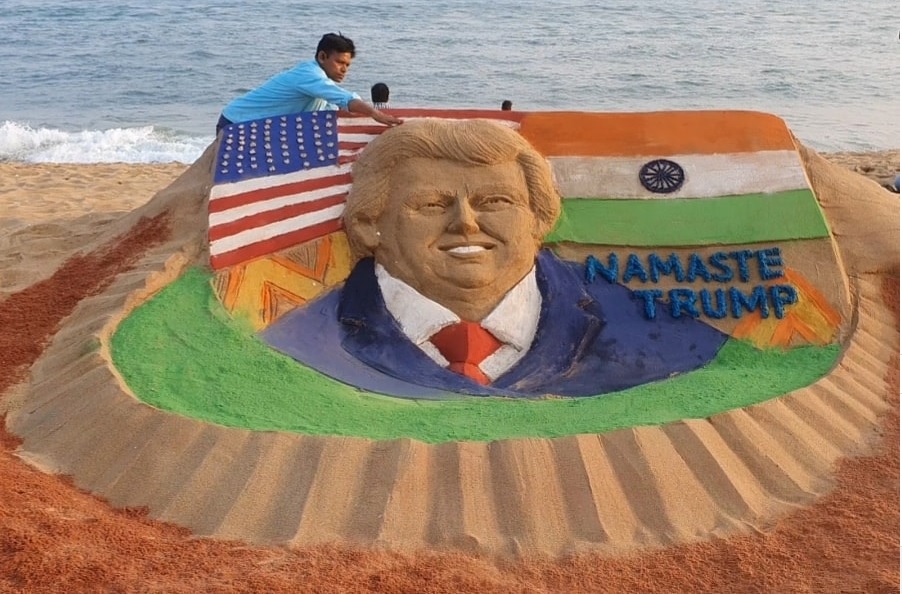 While an artist from Chandigarh Aman Singh Gulati has made a painted the US President on a single piece of almond, rice grain at 'Ahmedabad One Mall' on Sunday.