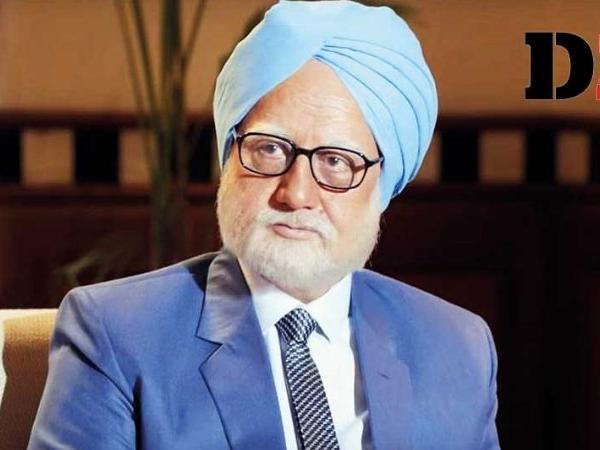 Anupam Kher is coming up with his new movie The Accidental prime Minister, based on the life and events of our ex Prime Minister, Dr. Manmohan Singh! Ever since the trailer of the movie has released, the Congress Party has been in strong opposition of the movie's release pointing out to inappropriate scenes showing the conspiracies Congress party had made during their reign! Responding to this controversy, Anupam Kher is out to speak about the movie and its promotions and the CBFC certificate!
One pic was clicked today & other in the month of April. It will take you a little time to distinguish between the real & the reel. That is the authenticity and the sincerity one has applied in portraying #DrManmohanSingh. Releasing on 11th Jan.🙏 #TheAccidentalPrimeMinister pic.twitter.com/RMB6skRB5M

— Anupam Kher (@AnupamPKher) December 28, 2018
While Anupam Kher and the team's performance and look as former Prime Minister Manmohan Singh was applauded, the Congress party had certain reservations with the trailer. To clear the air, Anupam Kher held a press conference in Mumbai today and said that they didn't take any step till they got their censor certificate from Central Board of Film Certification (CBFC).
Ladies and Gentlemen!! Presenting the trailer of our highly anticipated film #TheAccidentalPrimeMinister. 🙏👇
The Accidental Prime Minister | Official Trailer | Releasing January 11 … https://t.co/TUu4AsTgHM

— Anupam Kher (@AnupamPKher) December 27, 2018
Anupam Kher said, "We first showed the film to the censor board and didn't release the trailer or started any promotions till we got the censor certificate. We made the changes and the cuts that were suggested to us and then released the trailer. Why shouldn't a political film release in the election season? Patriotic films are released on January 26 and August 15. Then a film that is based on the political background should be released in the election season"
The Accidental Prime Minister is based on Dr Manmohan Singh's former media advisor Sanjaya Baru's book by the same name. It captures the period from 2004 to 2014. After the trailer was launched, The youth Congress unit in Maharashtra announced that they will not let the film release in the state because it contains certain "controversial parts". Stay tuned for more updates!