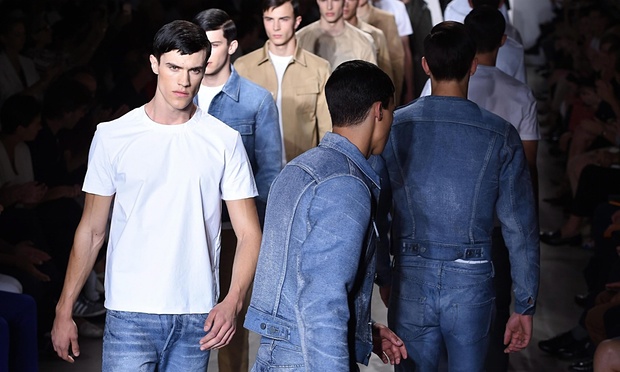 There was a new breed of lurker outside Calvin Klein's menswear show during Milan Fashion Week on Sunday: teenage girls, in orderly but excitable groups, waiting patiently for male models.
Increasingly, male models are building followings on social media – something Calvin Klein has been keen to capitalise on. In the runup to its show this season, the brand posted topless shots of the models who would be walking on the runway to 1.8m Instagram followers, along with fun facts (Andre Doyley, 22, is "a big Kenny Rogers fan", for example).
While Calvin Klein will forever be associated with gym-honed male bodies and tight, white underwear, the view from the catwalk was a lot more covered up. After all, this was Calvin Klein Collection, the brand's premium line, and creative director Italo Zucchelli presented an assured selection of military- and utility-inspired pieces in black, white, khaki, denim and stone.
       Shapes were simple and wearable – suit jackets over round-necked jumpers, cropped boxy jackets and T-shirts printed with faded palm trees – but that simplicity was subtly subverted throughout. Sleek, tailored trousers were decorated with elasticated straps like a loosened ammo belt; the standard casual uniform of boxy white T-shirt and jeans had an unexpected texture. On closer inspection, the stonewash denim effect of the "jeans" had been created with jacquard.
Calvin Klein has cannily targeted younger customers in recent years, linking up with stars with huge social media followings, such as Justin Bieber and Kendall Jenner, and capitalising on a mood of 90s nostalgia in fashion. Earlier this month, Phillips-Van Heusen, which also owns Tommy Hilfiger, reported stronger than expected quarterly results, which CEO Emanuel Chirico said were thanks to "the strength of our Calvin Klein business".
Luxury industry analysts are watching menswear keenly this season, though for a very different reason than those teenage fans. Global sales of menswear rose by 4.5% year-on-year to £298bn in 2014, compared with growth of 3.7% to £448bn for the women's market in the same period, according to Euromonitor.
Recently, womenswear brands from Moschino to House of Holland have launched menswear lines, while next month, for the first time, New York will stage a dedicated men's fashion week in an effort to capitalise on the boom. Ralph Lauren is staging menswear shows for the first time since 2003 this season, showing his Purple Label collection in Milan on Saturday and Polo Ralph Lauren at New York next month.