Breaking News
Bigg Boss 8 Halla Bol: Winner of Rs 25 Lakh Task Revealed!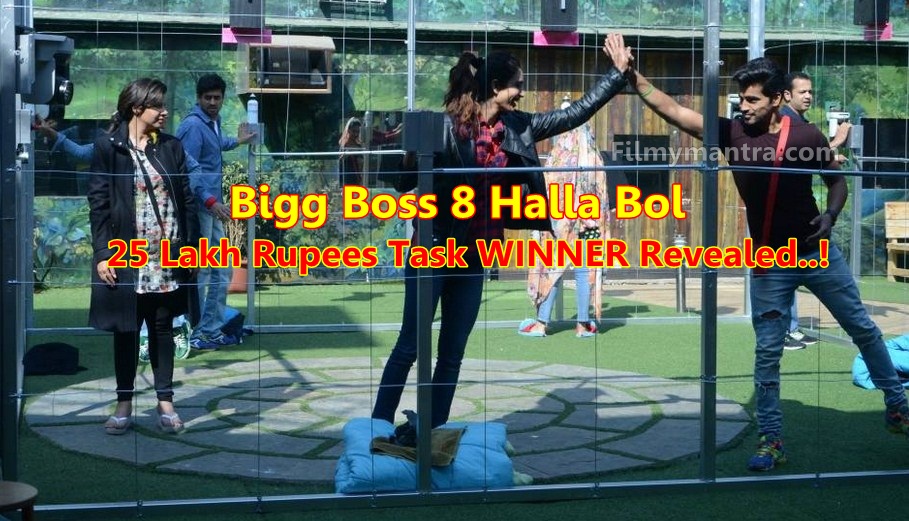 Everyone is watching the Bigg Boss 8 Halla Bol contestants with their eyes wide open for the winner of the recently allotted task for which they will be rewarded with 25 Lakh Rupees. The task seems simple yet difficult, the contestants have to stay in the cage no matter what happens failing to which they will be eliminated from the task and the one who lasts in the cage till the end will win the reward.
As the task begun, one by one started to evict from the task as they failed to obey the rules. But Dimpy Mahajan, Gautam Gulati and Pritam Singh were the only 3 left and they gave tough competition to each other. This made Bigg Boss 8 a bit hard to pick the winner for which they had to do some tricky stuff to deviate their minds and break the rules. So, Bigg Boss 8 said who wants to win the 25 Lakh task has to go to confession room hearing that Dimpy made her way abruptly to the confession room by leaving the cage she broke the rule and got evicted.
Now the 2 contestants remaining are Gautam and Pritam. None of them wanted to give up this made the competition even tougher. So, Bigg Boss 8 has now come up with a new idea of pressurizing the 2 by the remaining contestants.
Ali Quli Mirza who already renowned his act of provoking had started throwing personal questions to Gautam at some point Gautam went into  depression due to which he left the cage. The contestant now left in the cage is Pritam Singh. Therefore he is the winner of the 25 Lakh task. We congratulate him for maintaining the cool till the end and never breaking the rules of task.
[wp_lightbox_prettyPhoto_image link="https://filmymantra.com/wp-content/uploads/2015/01/Pritam-Singh.jpg" description="" source="https://filmymantra.com/wp-content/uploads/2015/01/Pritam-Singh.jpg" title=""]