The very famous hashtag is trending these days is #SidNaaz are back to being cute, much to their fans'.
Shehnaaz
was once seeking attention from Sidharth and she is requesting Sidharth to talk to her and he refuses to acknowledge her presence.
She tells him that she is very stubborn. Slowly she tells him not to do 'tamasha'. She will go on a hunger strike and not eat a small piece she utters. Following which she will fall sick and will have to leave the house to be hospitalized. She says, she won't touch food even in the hospital. When Sidharth refuses to relent, she starts kissing him on the cheek, going on to apply lipstick on his mouth.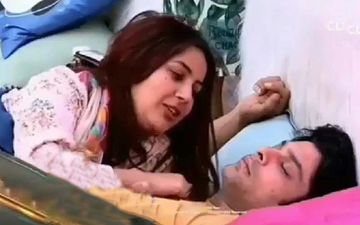 Read More: Bigg Boss 13: Press Conference Destroys SidNaaz Friendship, Asim Opens Up About His Girlfriend Outside
After Shehnaaz now Aarti and Mahira are making Sidharth Shukla as a 'Shukli'. Arti is on his right side and Mahira on left, both are making Siddharth wear pink Dupatta, a crown. Arti applied gloss which made Sidharth uncomfortable and he thought it is lipstick. But when he came to know it is the gloss, Arti applied Lipstick which pissed him off. Watch Video
We can see Shehnaaz sitting on another bed getting insecure looking at them. This shows how possessive she is for Sidharth Shukla.