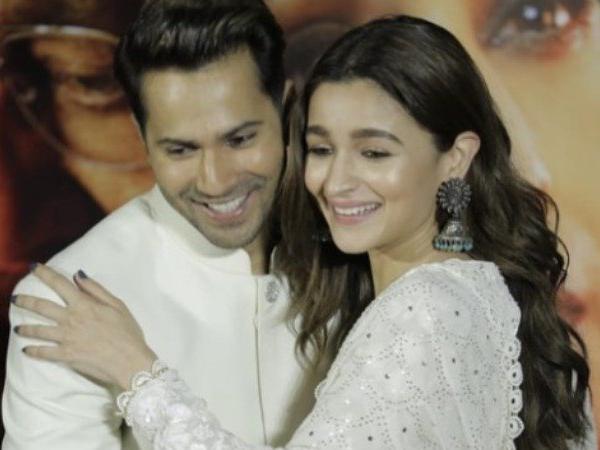 Alia Bhatt and Varun Dhawan, the two famous star kids, who made their debut in Bollywood together, with their movie Student of the Year have come a long way in Bollywood now! The two have been seen in a lot many movies together and their chemistry is absolutely loved by all! Be it Student of the Year or be it Humpty Sharma ki Dulhania or be it Badri Ki Dulhaniya! Their latest together is a long time awaited multi-starrer, Kalank! While Kalank is to release quite soon now, the on screen Jodi of Kalank, Varun Dhawan and Alia Bhatt reveal the reason behind their great chemistry and the on screen timing they share and ofcourse about whether or not they had a crush on each other ever!
https://www.instagram.com/p/BvlJ6pujjMY/
Although Alia Bhatt is currently dating Ranbir Kapoor and Varun Dhawan has been dating Natasha Dalal, there always were rumours making noise about something brewing between Varun Dhawan and Alia Bhatt, right since the time of Student of the Year! The reports were shut down since eventually Alia Bhatt turned out to be dating Siddharth Malhotra but here's the truth about whether Alia and Varun ever had a crush on each other!
https://www.instagram.com/p/Bv9jEZwh5L4/?utm_source=ig_embed
So when the two appeared on Sidharth Kannan's radio show on Ishq FM, he decided to quiz them if they've ever had a crush on each other. On the 'crush' question, Varun looked at Alia and said he would want her to go first and also asked Aditya Roy Kapur, who was also there on the show, to play the chords on guitar and set the mood. But obviously Alia couldn't stop smiling and said, "There's no need to talk about who all we had a crush on in life. List bahut lambi hai, at least meri toh bahut lambi hai' But before she could complete, Varun interrupted and clarified, "Meri nahi hai lambi. I think it's a friendship. When you are very fond of someone, I think there's a lot of care and there's a lot of respect." Alia was surprised with Varun saying, 'I think it's a friendship' and corrected him saying, "You think it's a friendship??? Say it is a friendship na. I think it's a friendship means what? (Laughs). Following which, Varun smiled in agreement and said, "It's a friendship more than a romantic bond". Alia then asked to change the question by concluding, "I am sure at some point…we will not say it here but mainly in life we are friends…I don't think you can not have a crush..(pauses) before Aditya came to their rescue to finally sum it up saying, it's 'Ishq-complicated' and both of them agreed.
Stay tuned for more updates!