News & Gossip
Riding A Horse, This Girl From Thrissur Reaches School To Appear In Her 10th Examination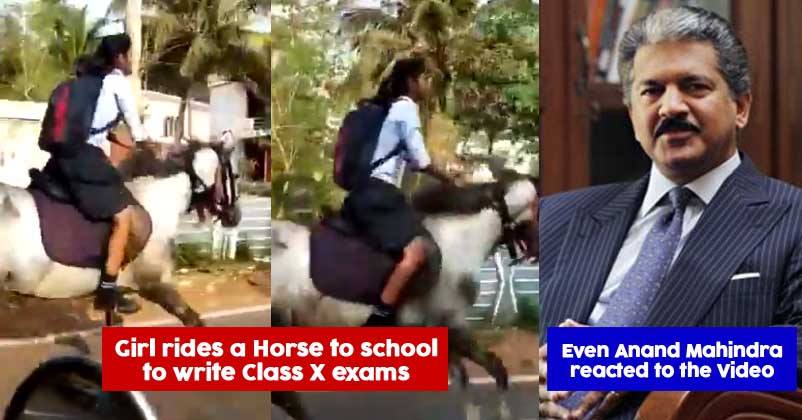 The Internet has its perks, it gives us some updates we would have never gotten a few years back. Currently, a video is going viral on social media showing a girl riding a horse. This video has taken social media by storm. In the video, one can see a girl wearing a school uniform with a bag in her back riding a horse at the streets of Thrissur, Kerala. The 10th standard student was going to appear in her exams.
This video clip from my #whatsappwonderbox shows how a girl student is going to write her Class X final exam in Thrissur district, Kerala. This story made my Sunday morning brew of @arakucoffeein taste better! After all, ARAKU coffee is about #cupofchange #GirlPower @NanhiKali pic.twitter.com/45zOeFEnwV

— Manoj Kumar (@manoj_naandi) April 7, 2019
The girl is getting lots of reorganization for all the right reasons and deservedly so. This video is a prime example of the importance of education and girl power. Education is the basic need for everyone but not everyone understands its importance until it's too late. However, there are certain people who go extra mile and conquer it all due to their hard work.
A Facebook user named Anant Narayan took to social media revealing the name of the girl as CA Krishna. The girl is a 10th student in Holy Grace School in Thrissur. While talking to Manorama News, she said that she wanted to go to school riding her horse as it was her last exam.
This video is so viral that entrepreneur Anand Mahindra took to Twitter to share this video calling CA Krishna a "Hero".
Does anyone in Thrissur know this girl? I want a picture of her and her horse as my screen saver. She's my hero..The sight of her charging to school filled me with optimism for the future… https://t.co/6HfnYAHHfu

— anand mahindra (@anandmahindra) April 7, 2019
In another tweet, Anand Mahindra wrote that this video needs to go viral globally so that the world would get to see what Incredible India is.
Brilliant! Girls' education is galloping ahead…A clip that deserves to go viral globally. This, too, is #IncredibleIndia https://t.co/y1A9wStf7X

— anand mahindra (@anandmahindra) April 7, 2019
Twitterati also showers praise at the girl for her brave move. Look some of the reactions down below:
https://twitter.com/J_B_07/status/1114854187806941184
https://twitter.com/OfficialGaurab/status/1115137216836038656
https://twitter.com/lskrish/status/1115105763448492032
India is truly diverse. Girl is riding horse to school. https://t.co/qX5okWcK50

— Raj Lalwani (@rajlalwani) April 7, 2019
I am also privileged like you to witness a girl coming to school riding horse.

— Sandeep Gupta (@autosandeep) April 8, 2019
What do you think?