News & Gossip
A Fan Copied Chris Gayle ' s Dance And Asked For His Review, Gayle Trolled Him Savagely!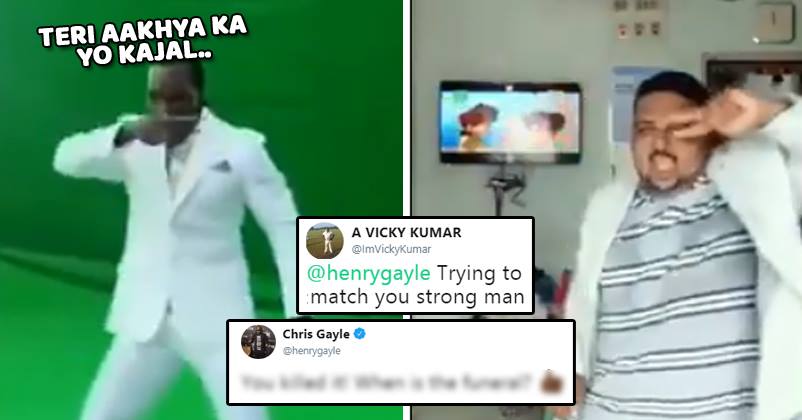 IPL is over, but we are still coping with the sadness it has left behind. After all, it was the best season with several thrilling matches and unpredictability. One player who is synonyms of IPL is none other than big West Indian Chris Gayle. Gayle is the ultimate entertainer when it comes to T20. Everyone is a fan of his big six-hitting capabilities and carefree attitude. After playing for RCB for a long time, he was bought by KXIP this season. He didn't disappoint us either, he helped KXIP win several matches through his blasting knocks.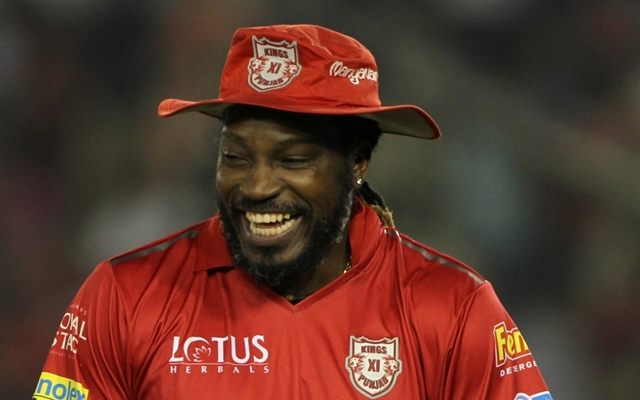 Other than his cricketing style, Chris Gayle is also known for his dance. Yes, you must have seen his celebratory dancing moves on the field. A fan of the superstar decided to compete with the universal boss in dance. A video is going viral on the web, where a fan is trying to copy Gayle's dance moves. The fan shared the video and tagged Chris Gayle asking for his review.
The fan shared the video with a caption, "@henrygayle Trying to match you strong man :)"
@henrygayle Trying to match you strong man 🙂 pic.twitter.com/wgrSzIjtNU

— A Vicky Kumar (@ImVickyKumar) June 2, 2018
The fan did a pretty decent job in copying the big man. However, the best thing was Gayle's epic response. He trolled the fan like never before with his amazing reply. We are still confuse if star West Indian was praising him or criticizing him.
This Is How Chris Gayle Responded: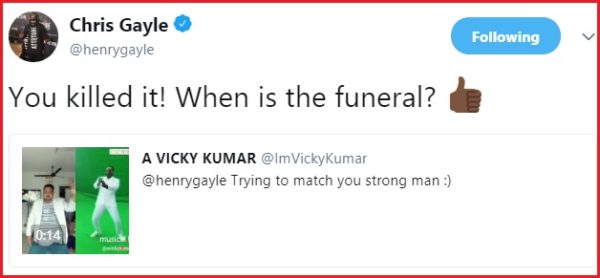 What do you think of Gayle's response? Was it a compliment or criticism? Tell us your thoughts in the comment section down below.`