News & Gossip
9 Most Useless Controversies That Have Become Viral On Social Media Like Wildfire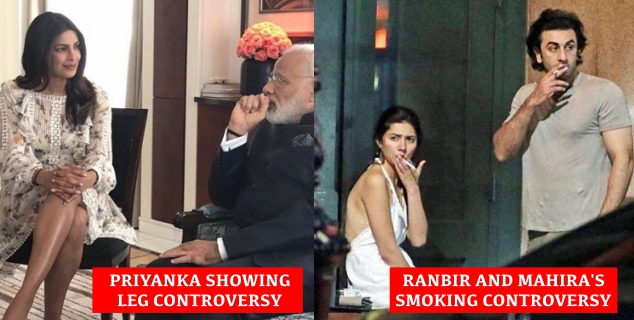 As Indian we need to work more on our basics and should stop focusing on useless issues like we mentioned in this article. We surely need to stop using a whole lot of our energy in spreading wrong messages and hence turning them into controversy.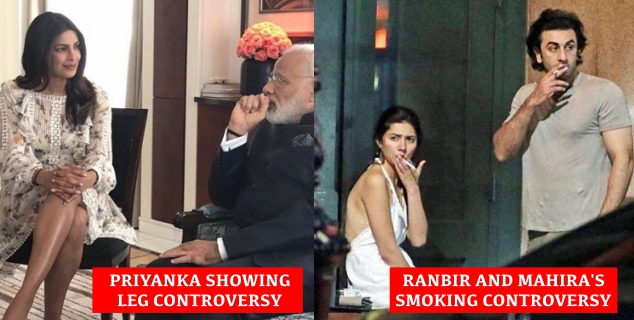 Here is the list of unnecessary controversies that occurred and should not be taken that seriously, but offended many Indians and that's why a huge storm of controversy took place.
Ranbir Kapoor and Mahira Khan's smoking' hot controversy.
A picture of Bollywood actor Ranbir Kapoor and Pakistani actress Mahira Khan smoking a cigarette together went viral on social media.
While people criticised the 'Barfi' actor for 'dating an actress from Pakistani, Mahira on the other hand was criticised for wearing short dress and smoking a cigarette 'openly'.
Sunny Leone's Manforce condom ad during Navratris.
The Bollywood actress, Sunny Leone, has always managed to attract all controversy. She once again made headlines when one of her condoms was posted in Gujarat during the Navratri holiday season, accompanied by the slogan "khelo magar pyaar se".
She was announced unsanskari for doing this and we do not know what her fault is!
Meeting of Priyanka Chopra with Prime Minister Narendra Modi.
World girl Desy Priyanka Chopra met with our country's Prime Minister Narendra Modi, but instead of appreciating his efforts to make India proud of his successes in reaching great heights in the West, people started to hanging out for her "short" dress she wore PM She could have worn a salwar-kameez but she chose to show her legs! That's what people thought even when they lived in 2017.
Esha Gupta was insulted, mistreated and called her name for her "lingerie" shoot.
The Bollywood actress, Esha Gupta, has been criticized and mistreated for performing a lingerie shoot and for posting photos of the seductress on her Instagram account. But the actress has shut the mouth of her sleds by posting her photos again and again on the social media platform.
Go, girl!
Cricketer Irfan Pathan and his wife's selfie.
Indian cricketer Irfan Pathan and his wife's selfie became a topic of discussion and we do not know why. There is no answer to the question that a person's selfie with his wife can become a controversy and a topic of analysis for many.
Kuch to log kahenge logo ka kaam hai kehna but always #love #travel pic.twitter.com/aERzXr0g2j

— Irfan Pathan (@IrfanPathan) July 17, 2017
To inform you all, his wife was announced un-Islamic because she had shown her arms and was wearing a nail paint.
We do not see anything insulting or offensive in this article by Katy Perry. Do you?
Pop star Katy Perry posted a picture of Hindu goddess Kali Maa on her Instagram account along with a caption 'current mood' that disappointed many and a controversy took place. However there was nothing that offended, insulted or hurt us.
7. People from Tamil took great offence to this magazine cover because they felt 'showing legs' while wearing a bride's dress is against their culture.
8. Mohammed Shami's wife was termed un-Islamic for showing her arms. For many days, the moral police force of the internet tortured Shami by hurling abuses on his social media profiles.
9. After the CEO of Snapchat gave a statement about India being a 'poor country', people of the country, people of our country took offense and to take a revenge they started uninstalling the app and #UninstallSnapchat started trending on tmany social media platforms. But it was soon revealed by the CEO that he had never given any statement of this sort and kudos! The installation of the app increased.