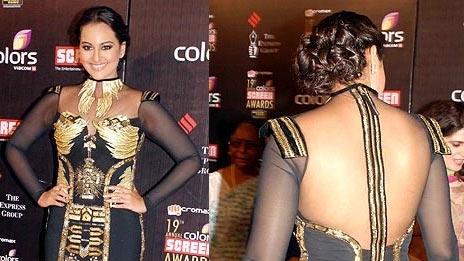 7 Sonakshi Sinha Headlines That Shocked Bollywood
One does not simply mess with the daughter of Shotgun Sinha. 
1. The Roast-ed Petition 
The actress found herself being roasted yet again, courtesy concerned daddy Mahesh Bhatt who expressed his curiosity over Sona's name being excluded from the FIR while Alia's wasn't.
To which Shatrughan Sinha's daughter replied, Dear Mr.@MaheshNBhatt, a couple of pointless FIR's have been filed before this (delhi and kol if im not mistaken, in which my name was Mentioned and Alia's wasnt.
I don't remember my father questioning them as to how or why so. I do agree with u however, if these FIR's are filed on 2-3 members of the audience, why not the other 3,998. Lets not give these ppl the attention they so desperately seek, and as far as my memeory serves me, nobody EVER went to jail for laughing."
2. The KRK Twitter Battle 
After KRK decided to nominate some Bollywood actresses whose derriere was that of Kim Kardashian's calibre, an angry Sonakshi set him in his place by responding:
3. The Instagram Throwdown 
Tired of all the body shaming, the actress took a bold stand that left her haters stunned when she expressed her feelings in a crisp Instagram post:
4. The Photoshopped Magazine Cover Scandal
While magazines are always known to go a bit liberal on the Photoshop, this morphed image of Sonakshi Sinha in a bikini sent shockwaves up and down the industry until its authenticity, of lack thereof, was finally determined.
5. The Rumour Mill War 
Tired of all the reports being circulated that her industry mentor Salman Khan apparently reduced her to tears at Arpita Khan's reception, an incensed Sonakshi declared war against the rumour mill on Twitter by declaring:
6. The Rumour Mill War – Revisited 
And it doesn't end there. The tabloids were abuzz with reports that Sonakshi's high-handed refusal to do an item number in Kick and to star in Dolly Ki Doli had miffed her industry godfathers until she yet again made herself clear online:
7. The Rumoured Katrina Catfight 
Ego clashes between actresses aren't exactly unheard of in showbiz, and Katrina and Sonakshi were no exception. The two actresses were reportedly at loggerheads after Sonakshi supposedly replaced Katrina from Salman Khan's inner circle.
However, Katrina finally put an end to all the rumours by declaring, "The reason why I didn't react is that till the point I know for sure that the person has done something or said something untoward towards me, I'm ready to give that person the benefit of the doubt. I follow that in my own life also. People can be misinformed or words might get twisted when they reach me. It's best to ignore and not participate in all those talks."