Specials
What If Indian Celebs were Harry Potter Cast (21 Photos)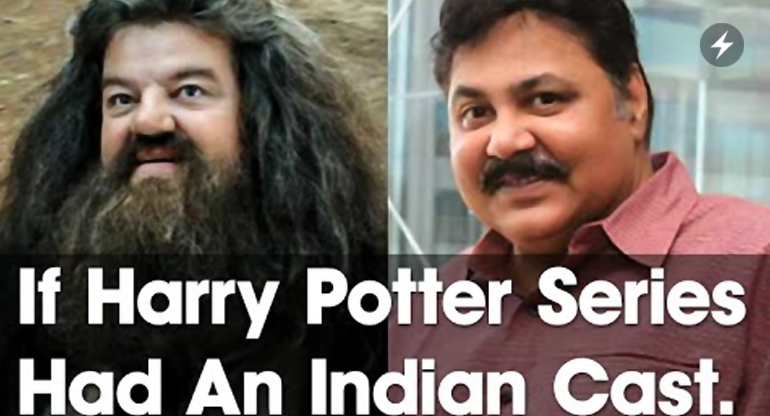 Fans of Harry Potter movie are boundless, regardless if it is for movies or books. The craze and furor, the movie has gained, it's unmatchable and exceptional! Now let's make a twist, wonder if the Harry Potter Series were played by Indian Bollywood celebs? OhhMG… it will be super fun to watch our B-town celebs in the various avatars. What do you think which celebs suit the best for the corresponding roles?
Check these Indian celebs that were placed beside the actual cast in a popular thread on an interactive platform. Let's have a look at these Pictures and decide who were replaced best.
Amitabh Bachchan As Albus Dumbledore
It was a tough battle between Amitabh Bachchan and Naseeruddin Shah to be honest, but at the end of the day, Dumbledore is all about charisma. The most powerful wizard of all times deserves the baritone of Mr Amitabh Bachchan. After all, he's the only one can who can bring the Great Hall to complete silence (Remember, 'Mohabbatein'?)
Arshad Warsi As Mundungus Fletcher
Who would give justice to play a street character like Dung better than our own Circuit, Arshad Warsi? Yeah, he is the perfect choice for this role as he just got the language and matches the body language too!
Ajay Devgan As Kingsley Shacklebolt
`
The role of this Phoenix member is strong and silent and gets the job done. We certainly cannot think of someone other than our Shivaay hero, yes, its Ajay Devgan who is absolutely perfect and fit for this role. Imagined? 🙂
Imran Khan as Ronald Weasley
He is boyish, he is crazy, he is charming and he would be a perfect wingman. Ron Weasley is one of our cherished characters from the series and so as Imran Khan, thus we could not imagine anyone one other that Imran Khan as the best choice for Harry's best friend.
Kapil Sibal as Peter Pettigrew (Wormtail)
The exact counterpart for Wormtail in the Indian context is Kapil Sibal, agree? Some would suggest Mukesh Ambani can also make good match, but we certainly go with the former as he would give absolute justice to the character.
Kareena Kapoor As Fleur Delacour
Classy, yet hot, sizzling Bebo oozes the same 'Veela'esque attractiveness that Fleur Delacour does in the movie. The desi makeover of the Beauxbaton girl is indeed cool, isn't it?
Alia Bhatt as Hermoine Granger
Well, don't these actors lookalike? We place our bets on Alia Bhatt for the role of great Hermione. Alia has upswinged and evolved superbly as an actor and we are pretty much sure that she indeed would do justice to this freaky role of Miss Granger.
Kunal Kapoor as Sirius Black
Because he tall, handsome and with the devil (ish) attitude, Kunal Kapoor is just a man to play Harry's Godfather. And yes, the voice, OMG! and yes, we are Sirius this time 🙂
Lilette Dubey as Professor Minerva McGonagall
Well, there are many B-town celebs who can play the Gryffindor head like Shabana Azmi, Ratna Pathak and even Waheeda ji but the crispy, chic Lilette Dubey could completely justice this role and yes, she is perfect either!
Rekha As Bellatrix Lestrange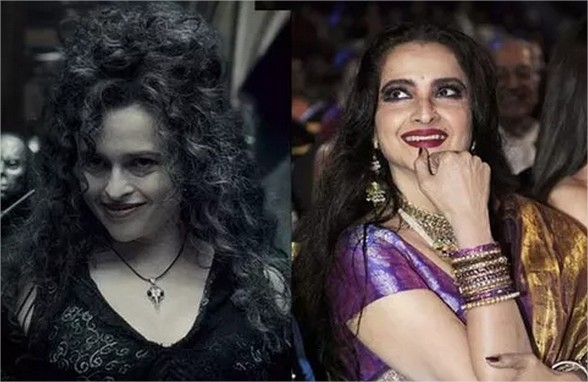 Absolutely perfect choice as playing evil is her thing and being evil is Madam Lestrange's. isn't it? Well when it comes to playing this maniacal witch, most of will agree that no one could do better job than our own desi Helena Bonham Carter, Rekha Ji! Another popular choice was Bipasha Basu and Shabana Azmi, But Rekha suits better, yeah…
Manoj Bajpai As Severus Snape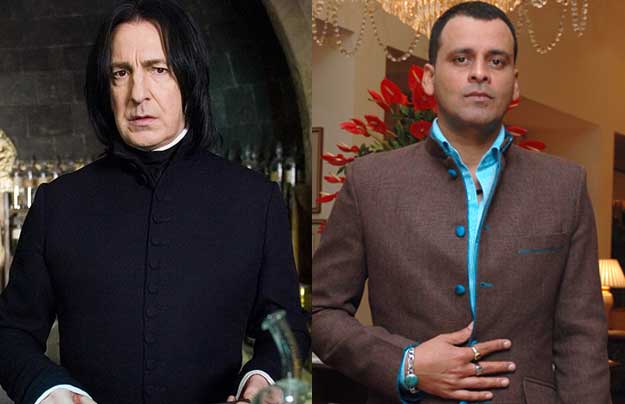 One of the most central charcters of the series, Snape can really be handle perfectly by an actor manoj would be the perfect choice for this character. Another actor who can be seen in this role would be Kay Kay Menon.
Satish Shah As Hagrid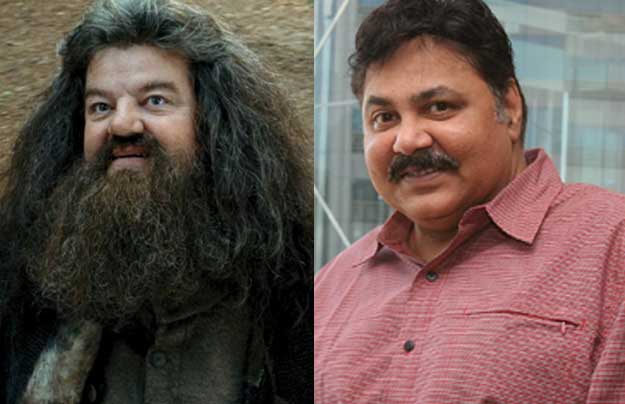 For this role, we are going to depend upon some VFX to adjust the 'giant' bit, but other than that, Satish Shah could just adjust in this role and is the perfect Indian Hagrid. He has got the same beefy frame and the friendly spirit and yes, we cannot even think of anyone for this role other than Satish Shah.
Rakesh Bedi As Cornelius Fudge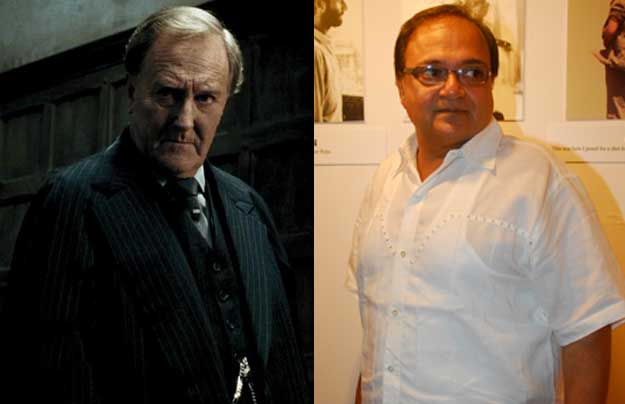 Same as his appearance and his body gesture, the roly-poly yet funny, Rakesh Bedi seems to be the great choice to play this Monster of Magic, agree?
Rajat Kapoor As Lucius Malfoy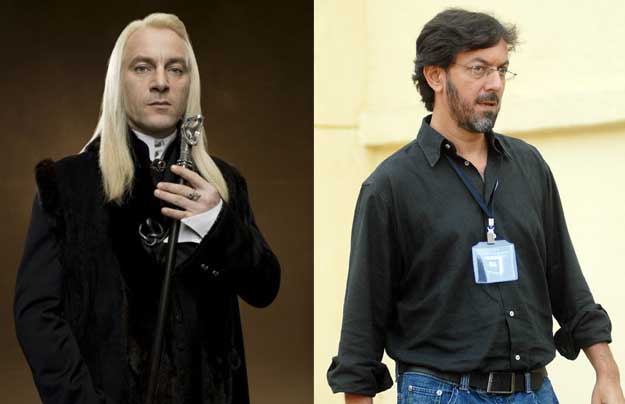 Rajat Kapoor one of the best, versatile actor in the industry can surely pull off the evil role of Lucius Malfoy with absolutely no sweat. And yes, let's face it, he looks the carbon copy!
Rishi Kapoor As Alastor Moody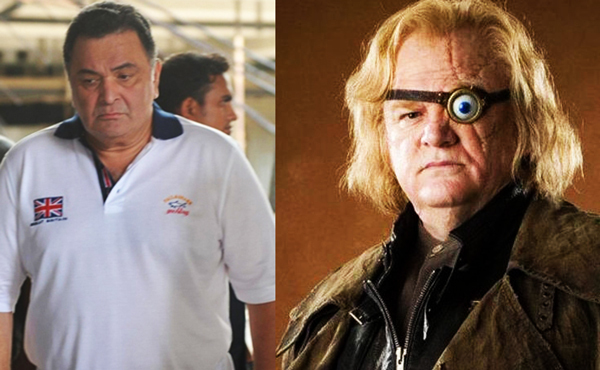 The character might not be beautiful but he is definitely the man with the brains so as our chubby Rishi Kapoor. And we are sure that he truly deservers this role.
Supriya Pathak As Molly Weasley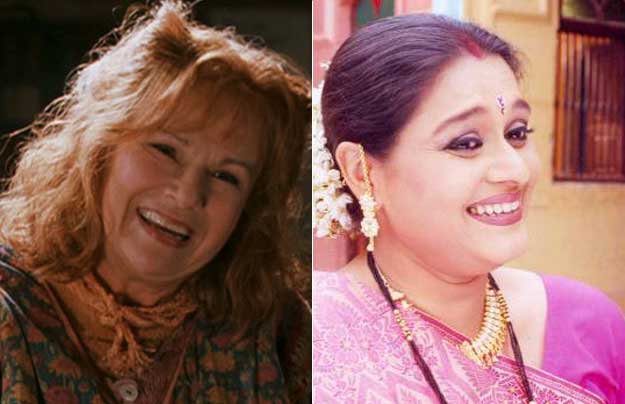 Supriya Pathak truly homely, plumpish and affectionate when it comes to an Indian Molly Weasley and yes, Supriya from her "Khichdi" days is just the right bet to this character, she just gives off the needful motherly love to make us sure that she would own this role.
Ranbir Kapoor As Tom Riddle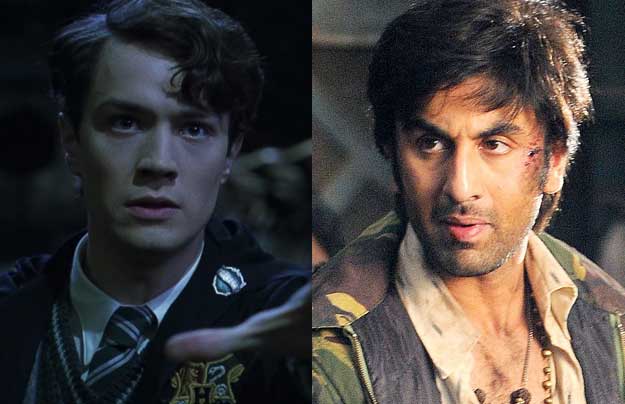 Actually, Ranbir would fit for the role of Harry Potter, but since we have yet to seen Ranbir in a full-blown negative role, we can just feel that if he tones down on his Bollywood theatrics and gets that freaky hairdo, he would surely do justice to the Riddle's role like a glove!
Om Puri As Argus Filch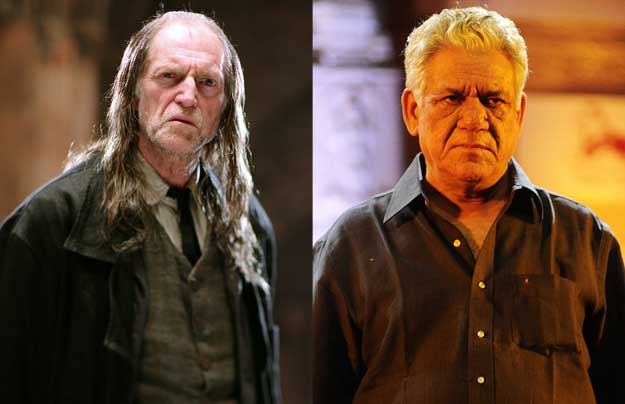 The cantankerous, mottled and old Argus Filch's role is tailor-made for Om Puri indeed!
Mamta Banerjee As Dolores Umbridge
Don't you think one of our politicians could play a role in Desi Harry Potter? Yeah… Its Mamta Banerjee! Both the characters are short and most importantly, both have the authoritarian air…ehh that might be not popular with the masses. Still, no doubt we found our Desi Umbridge in Mamta Banerjee.
Sanjay Dutt As Lord Voldemort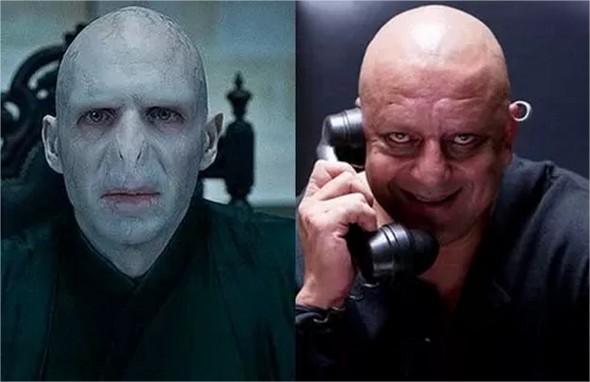 "Agneepath" was super hit of Sanjay Dutt and he is so suited for the role of Lord Voldemort. The look, the acting style and the general villainous intent shown by Sanjay Dutt in the movie Agneepath would be very suitable for someone performing the role of Voldemort.
Fardeen Khan as Neville Longbottom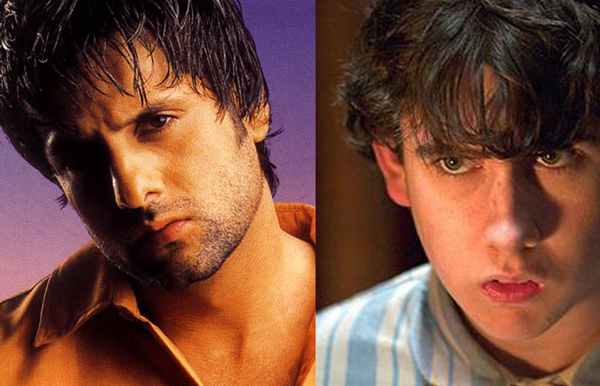 Well well, the awkward boy turns into a brave warrior… yes!
Okay, so as ridiculous as this may seem, it is purely on the basis of the facial resemblance of both the characters and that's it!
Archana Puran Singh as Madame Maxime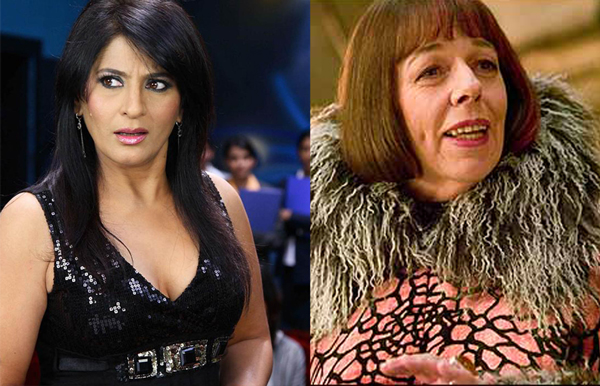 Imagine Punjabi Madame Maxime, it will be so funny to imagine the look and the accent! well, Archana is certainly made for this role and she either way suits the character itself, don't you think so?
Abhishek and Priyanshu as George and Fred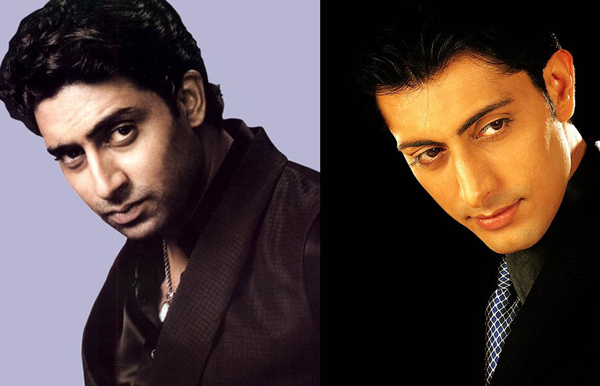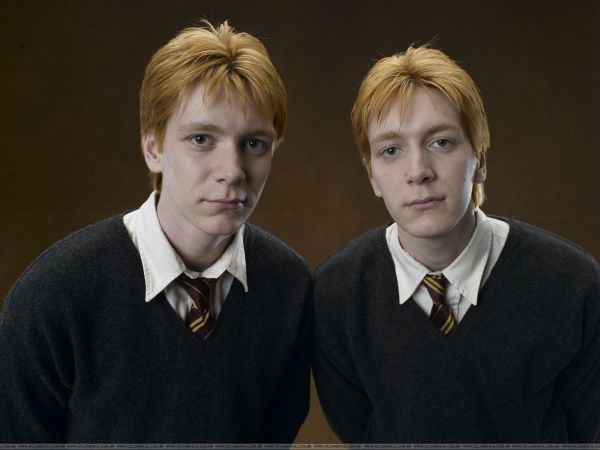 The famous prankster Weasley twins, George and Fred could undoubtedly played by the charming Abhishek Bachchan and Priyanshu, what else is needed?
Apara Mehta as Molly Weasley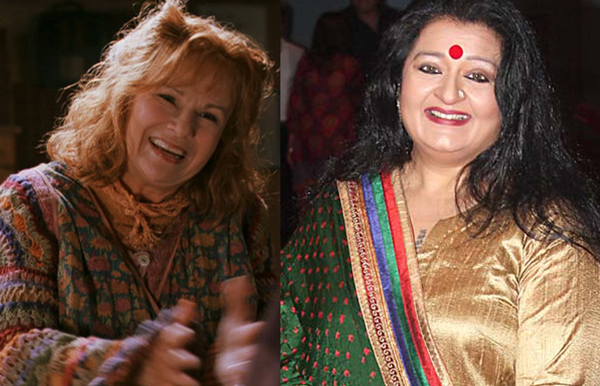 Apara Mehta tagged as "Universal Maa" of the film industry and so is the role suited to her, isnt'it?
Rakhee Tondon as Prof Trelawney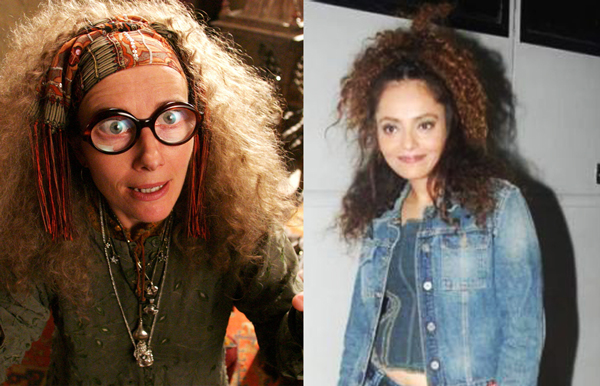 Look at the hair of both the characters, Do you think, Rakhee will need any hairdo or so? and the eyes also… similar, very similar, agree?
Rajesh Khera as Argus Filch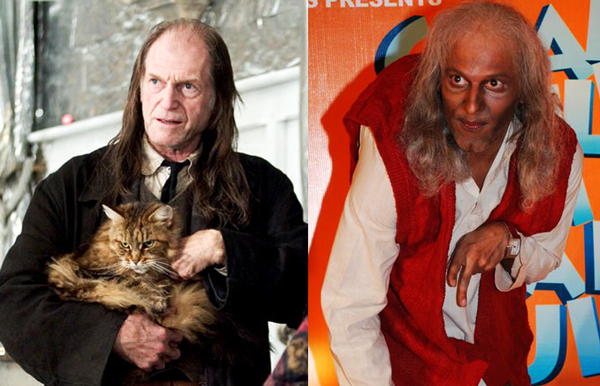 OMG, desi Argus Filch is so identical with the real character that we cannot make any difference between them. The role is custom-made for Rajesh Khera and he will justice it, we are damn sure, aren't you?