News & Gossip
Virat Kohli's Funny Reaction To Hetymyer's Wicket Got Hilarious Reactions From Twitterati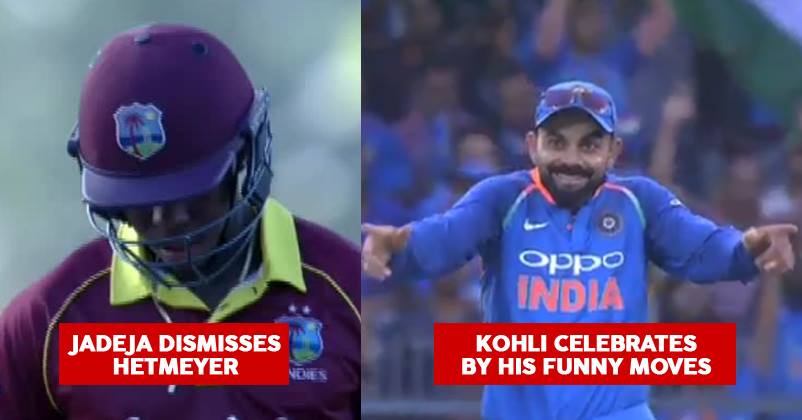 The first ODI in 5-match ODI Series between India and West Indies was played yesterday in Guwahati. Rohit Sharma and Virat Kohli's 246 run stand helped India defeat West Indies convincingly.  Both the batsmen scored century and won the match without any problem.
West Indies did a good job in the first innings, as they put up a respectable total of 322 runs. It seemed pretty huge score, but Rohit and Virat made it look like a cakewalk. However, one incident in the first innings has become a hot topic among Indian fans.
Shimron Hetmyer scored 106 runs in 78 balls, which helped WI put up a huge total. It was his third century and it looked like he would take the game away from Indians. However, he handed his catch to Rishabh Pant on Ravindra Jadeja's ball. It made Captain Virat Kohli super happy.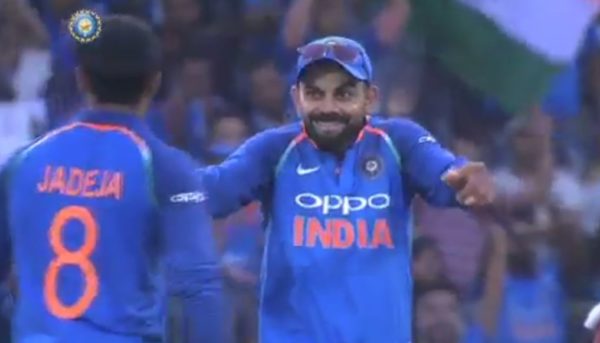 Virat is known for his expressive nature, his face tells everything about the game. After Hetmyer's wicket, Virat made looked very happy, as he makes some childlike expressions. He was seen dancing, as he hugged Jaddu.
Watch The Video:
https://twitter.com/BCCI/status/1053963620999036928
This has become a talking point on Twitter. Fans are giving their hilarious response to captain Kohli's epic reactions. Check out some of the reactions down below.
1
https://twitter.com/animesh452/status/1053964045009641473
2
https://twitter.com/urstrulyVivek45/status/1053965696458051589
3
https://twitter.com/ughwhatever/status/1053966441769328640
4
https://twitter.com/SyedSalu60/status/1053966187900547072
5
https://twitter.com/impriyadharsini/status/1054022040196280320
6
Aaj maza aayega

— arijit saroj (@Amitsar83569740) October 21, 2018
7
Proof that he watched #SuiDhaaga atleast 10 times .@AnushkaSharma 😂😂😂😂

— [email protected] [email protected]@l 🇮🇳 (@rj_subh) October 21, 2018
8
Yeh joker kaun hai

— kalmat (@kalmat912) October 21, 2018
9
Owsome

— Manoj Sahu (@ManojSa99231700) October 21, 2018
10
https://twitter.com/rishabhmathur99/status/1053964766824329216
That's funny, isn't it? Tell us your thoughts in the comment section down below. Stay tuned to this space for more viral stories.