Bigg Boss
Bigg Boss 11: Vikas Gupta Accused That Luv Tyagi Got 293 Votes Not 393, Luv Shuts Him Like BOSS!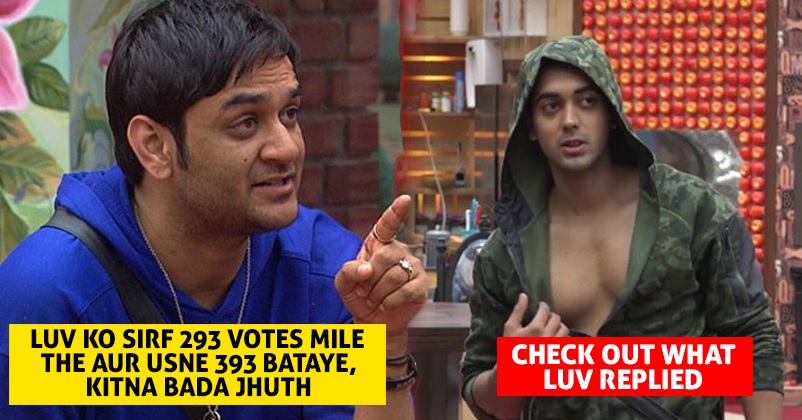 Bigg Boss 11 never fails to amaze us! You may remember that four nominated contestants Hina Khan, Shilpa Shinde, Luv Tyagi and Vikas Gupta went to a mall in Navi Mumbai for live voting. Fans in huge number gathered in the mall to support their favorite contestants. Shilpa emerged as the clear winner with a huge margin, followed by Hina and Vikas Gupta. Luv Tyagi got the least amount of votes and was evicted from the house.
In the counting task, Luv told Salman Khan that he got 393 votes, which was shocking to everyone inside as well as outside the house. Despite Luv's eviction, his ballot boxes were still in the Bigg Boss 11 house. In last night's episode, Vikas told Puneesh that he doesn't think Luv got that many votes. In reply, Puneesh also agreed. They started to count his vote once again.
After counting Luv's votes, they were shell-shocked, as he got only 293 votes, not 393 votes. They informed about the same to Shilpa and Hina. Both the ladies said that it might be an honest mistake, but Vikas and Puneesh didn't agree with them. It has created huge uproar outside the house as well.
After the episode, Luv Tyagi took to his social media handle to give a clarification on this whole issue. In the confession, Luv said that he already knew that Vikas got more than 400 votes, so if he really wanted to cheat, he would have written bigger number than that.
This is what Luv said,
"I watched Bigg Boss 11 today and saw the contestants counting my votes and tagging me as a cheater. Well, Akash has already told me that Vikas has got more than 400 votes so, if I had the intention to cheat, I would have claimed a greater figure than 393"
#biggboss @biggboss #LuvTyagi
LUV TYAGI WON HEARTS pic.twitter.com/e5AiFQVqCv

— LUV TYAGI FANCLUB (@FCLuvtyagiBB11) January 9, 2018
What do you think about this whole issue? Tell us your thoughts in the comment section down below. Stay tuned for latest Bigg Boss 11 gossips and news.