Bollywood
Twinkle Khanna's Heart Touching Wish For Dad Rajesh Khanna On Their Joint Birthday
Former Bollywood actress Twinkle Khanna is one of the talented beauty in the B-Town. She is a beautiful wife of Akshay Kumar and a daughter of Late Superstar Rajesh Khanna. Rajesh Khanna, who was born on December 29, 1942, was the first superstar of Bollywood. Interestingly, her daughter Twinkle Khanna also celebrate the birthday on this very day. On this occasion, Twinkle misses her dad in a big way and expressed her feelings on Instagram.
Also read: Did Twinkle Khanna Really Took A Dig At Salman Khan?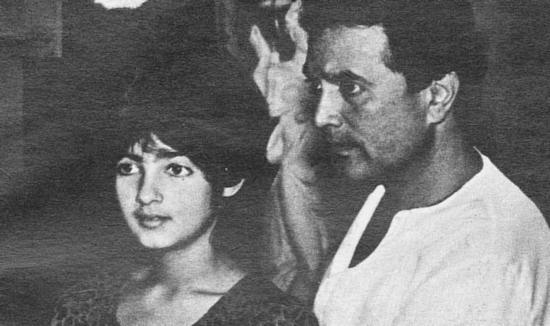 In a heartfelt message, Twinkle Khanna said on Instagram, "I see you in my reflection off the back of a gleaming spoon, in a gesture my sister makes , in the arch of my son's eyebrows- I still see you.. #happybirthdaytous." Twinkle who is also famous as Ms. Funnybones on Twitter shares a lot about her late father. A few months back, veteran actor Naseeruddin Shah slammed him by calling as a mediocre actor. This doesn't go down well with daughter Twinkle, who replied in a strong way by saying, "Sir if you can't respect the living, respect the dead. Mediocrity is attacking a man who can't respond." Eventually, Naseeruddin Shah seeks apology about it and says this is not what he actually meant to be. Actress turned author is very good when it comes to express her feeling with words. In 2016, she stole all the limelight on Twitter with her series of hilarious tweets about different topics. Recently, Twinkle Khanna was also a part of Koffee With Karan, along with husband Akshay Kumar. She literally made the show a humungous success as she is good when it comes to makes laughter out of the words. Karan Johar had a blast on the show with Twinkle Khanna.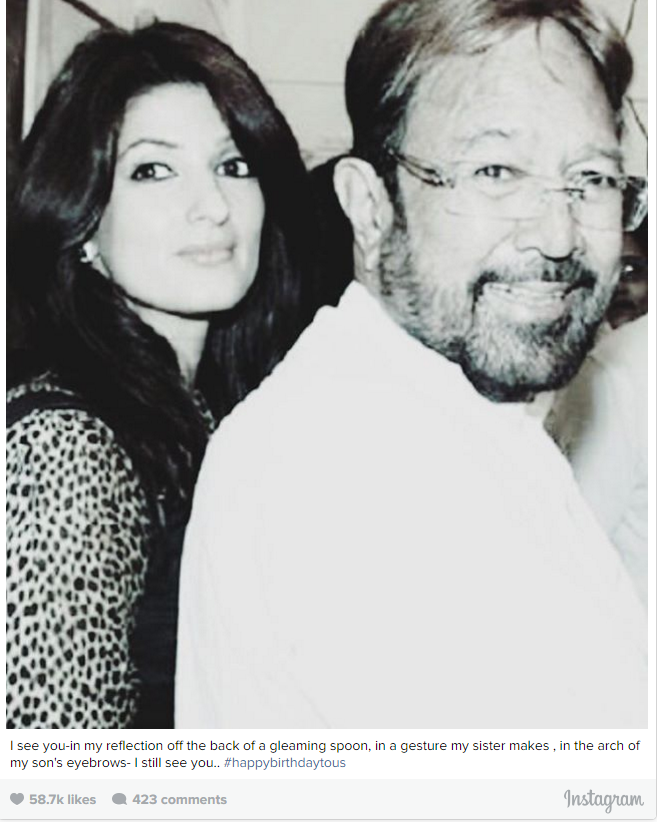 Overall, Twinkle Khanna is also celebrating her 42nd birthday with her late father Rajesh Khanna. Recently, Twinkle Khanna released her second book The Legend of Lakshmi Prasad which made her even more popular among fans and celebrities. Even Hrithik Roshan requested Ms. Funnybones to give him a copy to read. We wish this beautiful actress a very happy birthday.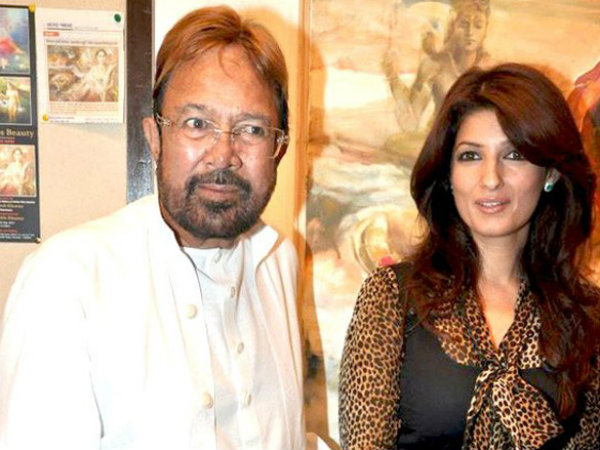 What are your thoughts on Twinkle Khanna and her dad Rajesh Khanna's birthday? do let us know in the comments section below.
Also watch: Twinkle Khanna And Many Celebrities Spotted At Aishwarya Rai Daughter's Birthday Party
https://www.youtube.com/watch?v=8IW6lh7gpMA