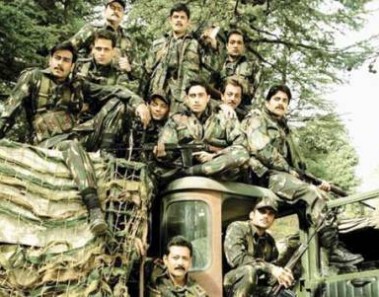 Top 10 Bollywood movies based on war
Patriotism which appears to have been left behind in our struggles of day to day life seems to come alive only twice – either during an Indo-Pak cricket match or during an Indo-Pak war movie. Yes, our patriotism which sleeps more often than not gets an ego boost when we watch movies where our gallant actors playing soldiers fight with honour and chivalry. When movies combine this emotions and present to us on the silver screen they become epics. Let's find out about some of India's top Bollywood movies based on war.
10. Param Vir Chakra (1995):
'Param Vir Chakra' is a Bollywood war film which released in the year 1995. It was directed and written by Ashok Kaul. Saeed Jaffrey, Kulbhushan Kharbanda and Hema Malini were some of the actors who starred in it. It may not have been able to set the cash registers ringing yet it is one of the well made Bollywood movies on war.
9. Lalkaar (1972):
'Lalkaar' was released in the year 1972 and was directed by Ramanand Sagar. It is a tale of two brothers one in the Royal Indian Air Force (RIAF) and the other in the Royal Indian Army and how they fight Japanese invaders in Burma during World War II. The film stared Dharmendra, Mala Sinha and Rajendra Kumar among others.
8. Tango Charlie (2005):
'Tango Charlie' released in the year 2005 and was directed by Mani Shankar. The movie was an attempt to portray war and the grief caused by it. Sanjay Dutt, Sunil Shetty, Ajay Devgan and Bobby Deol starred in this installment of war saga by Bollywood but it encompasses several internal conflicts with the Bodos and Naxalites before moving on to the Kargil War.
7. Hindustan Ki Kasam (1973):
'Hindustan Ki Kasam' was released in the year 1973 and it was directed by Chetan Anand. Needless to say following so close on the footsteps of the 1971 Indo-Pak war; this movie too was based on it; particularly on Operation Cactus Lilly. The movie has an all-star cast which includes Raj Kumar, Priya Rajvanshi, Vijay Anand, Balraj Sahni, Amrish Puri and Amjad Khan. This movie mostly concentrates on the role of the Indian Air Force in the war in the western theater.
6. Aakraman (1975):
The movie was released in the year 1975 and it starred Bollywood actors like Ashok Kumar, Sanjeev Kumar, Rekha, Rakesh Roshan, Farida Jalal, Sujit Kumar, Asrani, Keshto Mukherjee, Mumtaz Shanti and Rajesh Khanna. It was directed by J. Om Prakash. On the backdrop of the 1971 Indo-Pak war; it focuses on the chivalry and valour of the Indian soldiers who fought in the war.
5. LOC Kargil (2003):
Another film based on war directed by J.P. Dutta, 'LOC Kargil', released in the year 2003. It had a large ensemble cast of Bollywood actors and it was based on 1999 Kargil conflict. The movie was an attempt to showcase the battles fought by several soldiers who lost their lives during Operation Vijay in the year 1999. Capt. Vikaram Batra, Anuj Nayyar, Manoj Kumar Pandey and Sanjay Kumar were some of our gallant soldiers portrayed in this movie.
4. Lakshya (2004):
'Lakshya' was released in the year 2004. Starring Hrithik Roshan, Preity Zinta, Sharad Kapoor, Amitabh Bachchan, Om Puri and Boman Irani, the film was directed by Hrithik Roshan. The plot is set on the backdrop of the 1999 Kargil Conflict. It is a coming of age story of a boy to a Lieutenant and draws in all the emotions that perhaps are a reality for field officers. All in all one of the greatest Bollywood movies to watch!
3. 1971 (2007):
Directed by Amit Sagar '1971' is a movie based on the true story of prisoners of war after the Indo-Pak war of 1971. Released in the year 2007, this went on to the National Film Award for Best Feature Film in Hindi. The ensemble cast of Manoj Bajpai, Ravi Kishan, Piyush Mishra and Deepak Dobriyal among others played a great role in the success of this film. It depicts the escape of six soldiers of the Indian Army from the clutches of Pakistan after being taken as prisoners of war.
2. Border (1997):
This 1997 movie is a Bollywood blockbuster directed by J.P. Dutta. Based on Indo-Pak War of 1971 it was a critical as well as commercial success. Actors like Sunny Deol, Sunil Shetty, Akshaye Khanna, Jackie Shroff, Tabu, Pooja Bhatt, Puneet Issar, Kulbhushan Kharbanda, and Raakhee from the Indian film fraternity starred in it. This epic war movie is an adaptation of real events which took place during Battle of Longewala fought in Rajasthan. It was a well written script enunciated with great acting and equally wonderful music.
1. Haqeeqat (1964):
'Haqeeqat' was released in the year 1964 and was directed by Chetan Anand and also supported by Government of India. Balraj Sahni, Dharmendra, Priya Rajvansh, Sanjay Khan and Vijay Anand were some of the actors who starred in this classic. The movie was based on the 1962 Sino-Indian War and also went on to win the National Film Award for Second Best Feature Film in the year 1965. It remains the best of the Bollywood movies on war till date and has one of the finest soundtracks in Bollywood's history.