Specials
Top 10 Bollywood Disco Song-and-Dance Scenes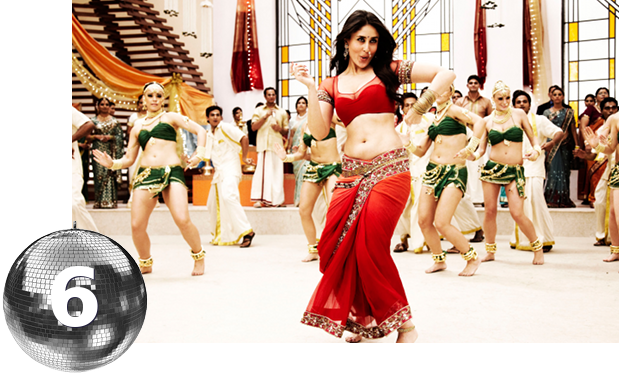 Top 10 Bollywood Disco Song-and-Dance Scenes
Glittering balls hanging from the ceiling, electronic beats and/ or a strong bass and people dancing.
That's what most people, including me, think of when we hear the word "disco". But in my mind, there is another thing which I'm sure won't pop into the mind of people who are unfamiliar with Bollywood: the disco song-and-dance.
The disco song-and-dance assumedly made its way into Hindi film tradition in the 70s, especially after the superhit Disco Dancer, and was very popular in the violent/glittery cinema of the 80s and 90s. It also appeared in a lot of more or less commercial films and especially the big blockbusters of the early 2000s, representing the "new, modern" youth. It also found its way into a few more independent productions and also some more recent films, but is currently only seldom seen in films, as the disco background-song has been gaining popularity. At the same time, film parties have moved away from discos and now often happen elsewhere.
In a disco song-and-dance, all the three elements I named to start with are included, but what defines the disco song is that a) people sing a song
themselves
, and b) a bunch of people dance to the same choreography.
There are various other "rules" for disco song-and-dance, some followed by almost every representative of the genre, others less frequent. For one thing, the disco song mostly has a
motivation
, and starts very suddenly. You will get to read about some examples in the scenes I'll present to you later. Moreover, disco song-and-dance often contains some very interesting fashion, mostly sparkly and very tight (not only the womens' clothes). Interestingly, the disco song-and-dance choreography is often a little awkward, or at least contains some weird sequences that you will rarely see at any real party or disco (I'm not sure about Indian parties though).
It is also possible for the story to continue and progress during a disco song-and-dance – actually this is the case quite often, which you will see in the examples. Frequently, the situation isn't the same at the beginning and at the end, so the disco song-and-dance isn't just a pause from the "tiring" story.
And last but not least, the disco
song
 itself is always an ear worm, and often a surprisingly good song.
"Koi Kahe Kehta Rahe" – Dil Chahta Hai (2001)
It's been over a year since I saw Dil Chahta Hai, but I especially remember this song for Saif's silver shimmering tight trousers, some crazy dance moves and a great ear worm. This disco song-and-dance takes place as part of a graduation party, but it also contains one of the character's motivation to impress a girl. There are also some shots of a corner filled with light bulbs, so you don't have the feeling you've seen all this before.
"Pump up the Bhangra" – Ram Jaane (1995)
To me, this song-and-dance – actually this whole film – is the perfect definition of "crackatasticness". It is an excellent example of those horrific yet terrific Bollywood 90s films (there were "normal" ones too, but I find them rare). And the best way to recognize that Shah Rukh is great in any. thing. 
I don't remember the motivation for this one, it's something with gangsters and bla, bla – the usual. Someone dies in the end. But I just can't get enough of the song.
"Aaj Ki Raat" – Don (2006)
This one actually resembles "Pump up the Bhangra" by means of motivation, although it's far more glamorous. Don or somebody else throws a grand disco party, and everything is badass 70s style, of course a homage to the original Don film from 1976. The people who have seen Slumdog Millionaire must be familiar with this song-and-dance by the way, it's the one the gangsters watch during their private party.
I'm always a sucker for well-made nostalgia and retro style, and Don is one of the finest Indian examples from the past few years. I mean, it has a giant disco ball (!).
"Go Balle Balle" – Dil Ne Jise Apna Kaha (2004)
Ah, this is the disco song-and-dance as I know it: awkwardly clad dancing extras, a lot of jumping and swaying hips, and a song that is gonna make you move your feet (did I just quote a Miley Cyrus song?). Preity, who was on the height of her career then, is bubbly as always, and Salman is cool as always (although he's not my favourite actor). This is one of the worst films I ever watched for its stars, but I remember the music as one of the best things about it – what else can you expect from Rahman though? (Reshammiya is alright too).
"Chammak Challo" – RA.One (2011)
More a shaadi entertainment song-and-dance than a disco song-and-dance, at least officially, but to me this is a perfect song for dancing and partying. Also, I've heard that it's the song at Indian and Bollywood parties right now, so let's just include it here.
I was sceptical to begin with: Akon singing in an Indian film? Can't have enough publicity, or what? But the result is fantastic, and once you've heard this song, you will never get it out of your head again.
This is the newest film/ song in the list too.
"You Are My Soniya" – Kabhi Khushi Kabhie Gham (2001)
Hrithik Roshan is just a dancing God. I hope he'll get the role as the dancing Shiva in that upcoming movie I just heard about, because he is really the best and most versatile dancer I have ever seen, honestly.
Of course, this song is a true classic, and I can't believe anyone will ever get tired of it. The unicoloured outfits, with the heroine standing out in red while everyone else is dressed in gold (the women) or black (the men). The flirting, the competition girls vs. boys (typical for song-and-dance in general), the unrealistic splendour… magical.
"Ek Pal Ka Jeena" – Kaho Naa… Pyaar Hai (2000)
A hip and cool club with trendy people, and a hero of course. You will always recognize the hero by his black outfit. Mesh vest, silver jewellery and dark sunglasses? Even better!
I must say that from all these songs, and other disco songs I've seen, this is my favourite choreography by far. I used to dance it in front of the TV with my sister, when we were younger – it's really difficult, but fun too. Actually I'd like to do that more often again.
Well, anyhow, if haven't seen this you really should – it's a classic.
"Where's the Party Tonight?" – Kabhi Alvida Naa Kehna (2006)
And this is how a New York upperclass party in a hip club looks like – according to Karan Johar. There are two Indians who decide to party and suddenly everyone starts singing and dancing the same choreography. However, the dancing itself is quite realistic – when you hear this song you won't be able to stay still for a long time. This song reminds me of Christmas, weirdly; I used to listen to it a lot when the film came out, which was in winter.
"Fanaa" – Yuva (2004)
It's such a shame there's no good quality video or pictures of this online, because this is my favourite disco song ever. Okay, I've only been to German parties with bad David Guetta music and all that, but I think if this song ever comes on at a party, the dance floor will rock!
A very, very deserved second place, despite the badly clad extras.
"It's the Time to Disco" – Kal Ho Naa Ho (2003)
And here we have it. The best disco song-and-dance ever. In my opinion.
Everything about this is as good as it can get, there is just no improvement I can think of.
The clothes are freaky, the dancing is groovy, the music is funky, there are sunglasses and disco balls… And the word "disco" is included in the title.