News & Gossip
This Pakistani Journo Threatens India Says 'Tamatar Ka Jawab Atom Bomb Se', Indians Gave Him Perfect Replies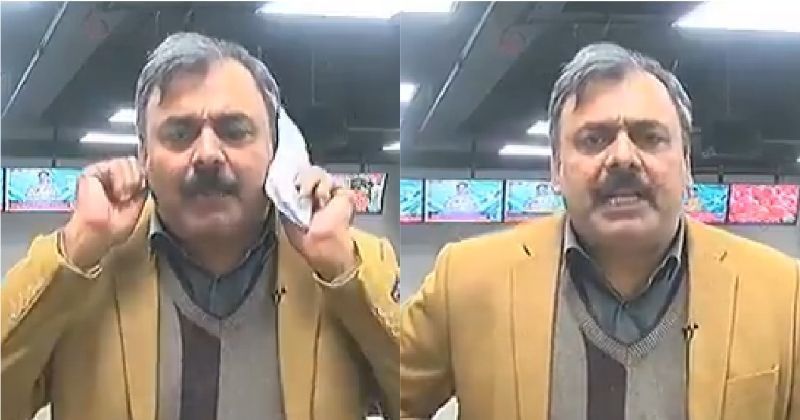 After dastardly Pulwama attack on February 14, the tensions between two neighboring countries India and Pakistan is on an all-time high. People in India are demanding a strong reply to Pakistan for the cowardly act of terror that took the lives of our 44 brave CRPFs jawans. Film body has already banned Pakistani artists completely. Now, several Indians and few cricketers are also demanding for India to boycott Pakistan in the upcoming ICC ODI World Cup scheduled to be played in England later this year.
In the wake of Pulwama attack, Indian farmers threatened to stop supplying tomatoes to Pakistani. Now, a now gone viral video, a Pakistani journalist can be seen threatening India over the same. He threatened India for grave consequences saying "Tamatar ka jawab atom bomb se." According to him, Pakistani has not made atom bombs for decorating their homes, they will use it against India.
Watch The Video:
"Tamatar ka jawab atom bomb se de gay." So much trash on our tv channels #TaubaTaubapic.twitter.com/2myeGCvECw

— Naila Inayat (@nailainayat) February 23, 2019
In the video, this journalist can also be seen lashing out at central government led by Prime Minister Narendra Modi and Congress President Rahul Gandhi. He said, "Yeh tamatar hum Rahul ke Modi ke muh par maarte hain." It is literally the height of stupidity in journalism. Journalist should behave according to their code not like this.
This statement from Pakistani journalist has not gone down well with Indians for reasons known to everyone. They soon started slamming him in the strongest way possible giving perfect responses to his rhetoric. Look at how Indians on Twitter reacted:
1
Seriously , these tv channels have only succeeded in providing entertainment to the Indians

— Manjeet Bagga (@Goldenthrust) February 23, 2019
2
Nuclear scientists started mass suicide after hearing the Gentleman say "Atom power"

— Yuga (@IndignantYo) February 23, 2019
3
इस बहादुर पाकिस्तानी को सुन कर मैं डर से थर थर काँप रहा हूं। टमाटर का जवाब एटम बम से? तौबा तौबा। अब भारत का क्या होगा? खुदा ने हँसाने के कैसे कैसे इंतज़ाम कर रखे हैं!

— राहुल देव Rahul Dev (@rahuldev2) February 23, 2019
4
https://twitter.com/kailashkumarJo4/status/1099366929548992512
5
2.20 mins me saale 220 baar to kaan pakar liye… sorry to ek baar me hi samajh aa jata hai..

Jao maaf kiya..

— Amit Vaid (@AmitKrVaid) February 23, 2019
6
Tamatar k bina zinda to rah loge pr Khane me tadka kaise lagaoge. 🤣🤣🤣🤣🤣🤣

— BeediBaaz (@BeediBaaz) February 23, 2019
7
https://twitter.com/sonavaneanand/status/1099277911524204545
8
WFH pic.twitter.com/iVPnnfM2Rz

— Straight Drive ⬆️ (@chandviz) February 23, 2019
9
https://twitter.com/Akshayneelam143/status/1099348342952218624
10
Says Pakistan is a nuclear state and the tone of this man reminds me of a child whose father snatches the ball from his hand. So much tantrums over tomato.

— Anurag Bashisth 🇮🇳 (@Aka14Anurag) February 23, 2019
What do you think?