News & Gossip
This Epic Recreation Of KKHH Title Song By Indonesian Fans Is All Magic, Video Inside
Shah Rukh Khan is one of the most popular Bollywood superstars. His fan following is not limited to India, he enjoys a tremendous fan following abroad. King of romance has given us so many blockbuster films like Dilwale Dulhania Le Jayenge, Dil To Pagal Hai, Kuch Kuch Hota Hai and many more. Whenever we think of romantic films, King Khan's image automatically pops up in our head, isn't it?
Currently, a video is going viral on the internet and social media, which is going to take you by surprise. In the video, three Indonesian fans are recreating SRK's chartbuster title song of Kuch Kuch Hota Hai and they did a fantastic job. They have captured all the essence of original and recreated it as it is in the movie. From the dress to locations, they were able to copy it frame by frame. Once you watch the video, you will also applaud for them.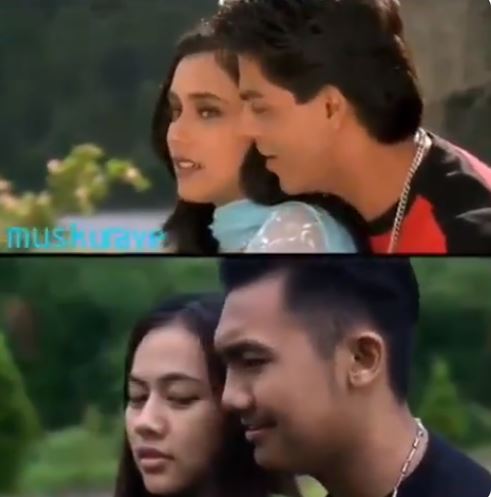 A Twitter user took to micro-blogging platform to share the video with a caption that reads,
"Bro who did this? 😂😂😂😂 why am I cringing so hard? Why they be thinking life is a Bollywood movie?"
Watch The Video:
https://twitter.com/prestigepls/status/1111087998190395398
Even Netizens are in awe of this now viral spoof. They simply can't get enough of it. Look at some of the reactions down below.
1
They did a good job! pic.twitter.com/w6u7RTh13r

— Random stuff (@feelikereading) March 28, 2019
2
I have to congratulate the camera man and the editors – 👍

— Aanis Khan (@aaniskhan) March 28, 2019
3
Not bad actually. Nicely done

— Down to earth Pangebaaz (@billa1301_biki) March 28, 2019
4
Performing a song at your cousin's wedding be like

— Abdul R. Siddiqui (@PakistaniPepper) March 28, 2019
5
https://twitter.com/RainyRain_/status/1111218289936683010
6
https://twitter.com/skidimarink/status/1111104718493962240
7
There is no cringe. This is awesome!

— Gokul (@ClanOfKine) March 29, 2019
8
https://twitter.com/laurelsudeep/status/1111259069522853890
9
https://twitter.com/sillyrhyme/status/1111229537054920704
10
Haha great effort 👍😁😍

— Amita (@amitanatverlal) March 28, 2019
What do you think of the same? Tell us your thoughts in the comment section down below.