News & Gossip
Teacher Puts Up Viral Notice Warning Students Not To Spoil Avengers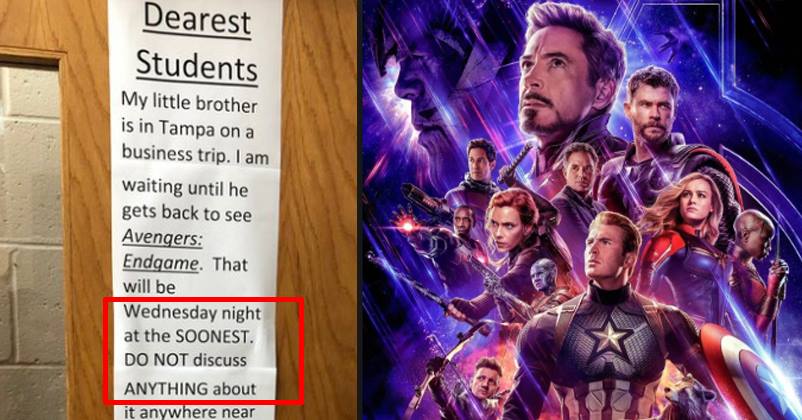 The most awaited film of the year Avengers: Endgame has already hit the theatre in India and people who already watched the film in the first weekend are requested others not to give out the spoilers.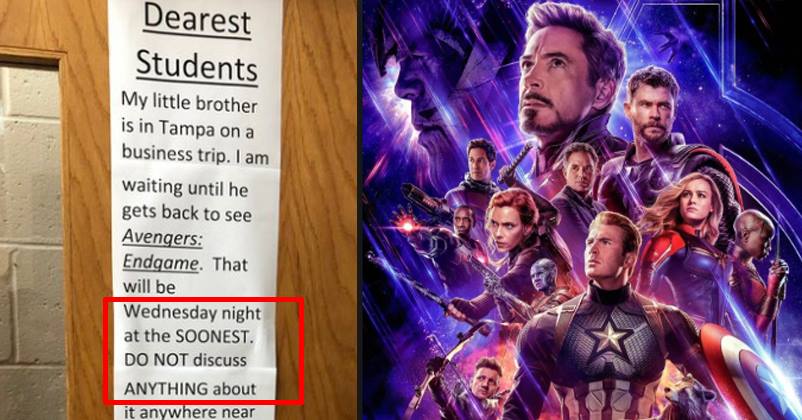 The superheroes and the creators of the franchise publicly put out a warning with #DontSpoilTheEndgame.
In an Incident, a teacher who seems to be an ardent fan of Marvel Superheroes has given a warning to the students for not giving out spoilers and has put up a hilarious notice outside his class and it is the best thing you will read today.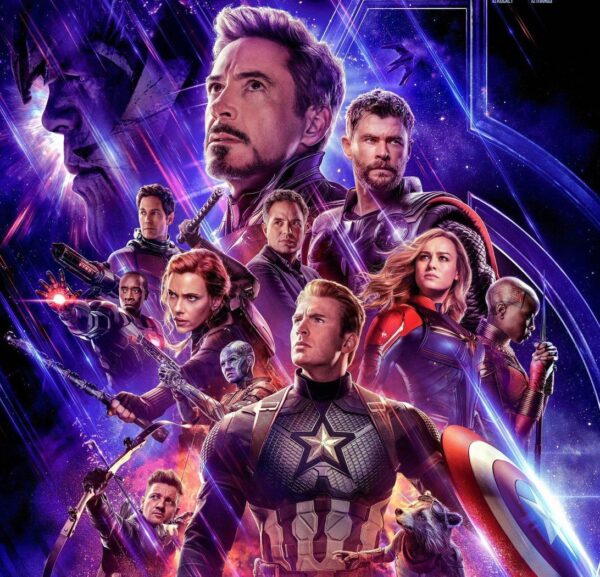 The hilarious notice reads, "Dearest student, my little brother is in Tampa on a business trip. I am waiting until he gets back to see Avengers: Endgame. That will be Wednesday night at the soonest do not discuss anything about it anywhere near my classroom until this sign comes down. You know how much I love Marvel Comics. So help me Jeebus, if any of you spoils a single frame of this movie for me, I promise I will make you wish Thanos snapped your narrow ass."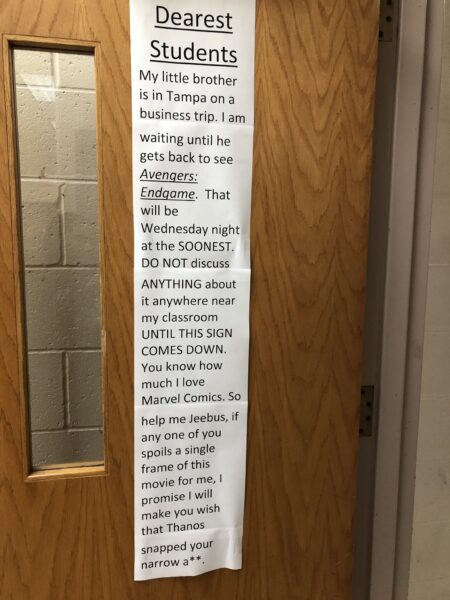 https://twitter.com/kamiilious/status/1121736738282643456
At the time of writing this article, the tweet already had 63,793 retweets 250,313 likes.
After the woman shared her teachers notice online, fans all over couldn't help but relate to his feelings and praised his efforts.
This what people are saying:
and I thought my English teacher took it seriously pic.twitter.com/Nzx5nI21Er

— Wario the Legend (@LegendaryWario) April 26, 2019
I asked my students (high schoolers) today if anyone saw it. As soon as a few of them raised their hands, several others started shouting "no spoilers, no spoilers." I didn't have to say a thing. 🙂

— Fully Vaccinated Kii will still #WearAMask (@CamaroWRX) April 26, 2019
My son got such message verbally from his teacher in the class today. Students will get two negative points if found discussing A Endgames 🤫

— ambreenali (@ambreenali78) April 26, 2019
Must be a nightmare! I'm worried that my son will say something and that's nowhere near as likely as being in a school. Good luck.

— MarkWor (@Markwor08193580) April 26, 2019
This sounds serious…NO SPOILERS ALLOWED IN THE TEACHER'S UNIVERSE…

— Malaika H. Kambon (@serious2020) April 26, 2019
https://twitter.com/puerto_minican/status/1122178189567115266
this is what one of my teachers had lmfao pic.twitter.com/Bxd7mF9zsc

— jack (@jackielml570) April 27, 2019
https://twitter.com/BlackBee223/status/1121798717827235840
https://twitter.com/josephshmoe7/status/1121796869015789568
https://twitter.com/lelaecheverria_/status/1122328906575564805
My teacher threatened to fail us 😂

— Jackie Mitchell #blm (@Curlyhead_03) April 27, 2019