News & Gossip
Dil Bechara Review: An unpretentious display of emotions that wrenches heart but soothes the soul!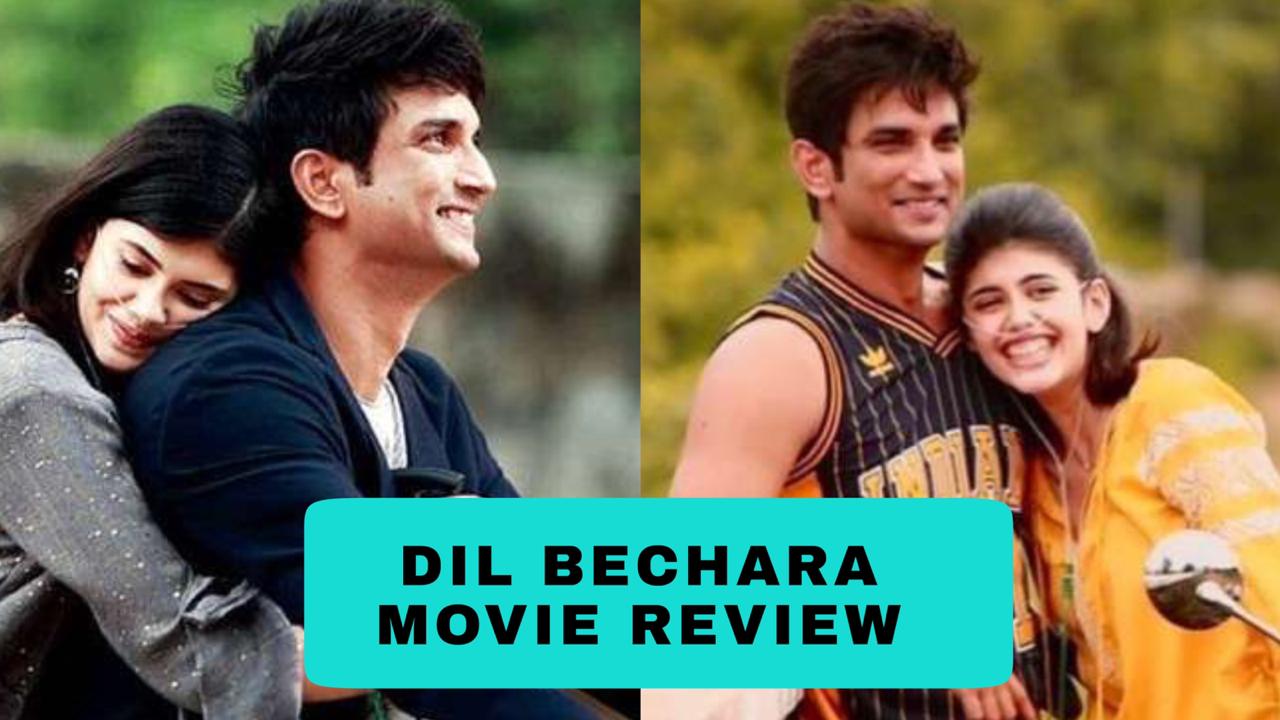 Movie – Dil Bechara
Starring – Sushant Singh Rajput, Sanjana Sanghi, Sahil Vaid, Saif Ali Khan
Director – Mukesh Chhabra
Rating – We will not rate this film seeing the people's endless emotions associated with their loving late actor Sushant Singh Rajput
Life plays its own twists and plants us in situations where it becomes tricky to tell, if we are playing life or life is playing us? Sushant Singh Rajput's last release 'Dil Bechara' is such a movie where it's hard to tell what is more distressing; loving someone who is destined to leave us or leaving the one whom we loved the most. The answer is clearly provided in the course of this movie.
This movie somewhere confuses us, not with its narration but with the fact that it is to be celebrated that it had Sushant in it or if we are to cry oceans, for the movie features Sushant? With romantic-tragedy plot, this emotional drama invokes many feelings in its viewers. Not just because the storyline is unsettling but also for the fact that viewers, while, watching the movie, were also remembering the 34-year-old actor and were getting distressed by the fact that he isn't alive now.
The movie displays many incidents, where fans could relate to Sushant's real life. In some of the many scenes, Sushant was seeing not living up to his reel life in his real life. It seems impossible to separate Sushant from Manny (his character) in many aspects. A dialogue, where the actor says, "it's an Irony of today artist that they never finish what they start." In other, he says, "I fear nothing. No fear," while talking to the doctor in a group session.
The directorial debut of Mukesh Chhabra is a dichotomy of emotions, happiness, and pain. It takes its viewers on a roller coaster ride; making them smile, laugh, sob, and celebrate life as it is the only dear thing which we never hold dear in our lifetime. Sushant Singh Rajput and Sanjana Sanghi starrer, 'Dil Bechara', is a Hindi adaptation of Hollywood movie, 'The Fault in Our Stars', which was based on novelist John Green's bestseller of the same name. The book was adapted into a 2014 Hollywood movie and featured Ansel Elgort and Shailene Woodley in the lead roles. The main plot of 'Dil Bechara' revolves around two characters, Kizie and Manny. While Kizie has thyroid cancer, Manny had osteosarcoma. The journey that they take together as they help each evolve and embrace life's imperfections is the driving force of the narrative.
Movie Plot
The movie starts from a funeral scene, where Kizzie Basu, played by Sanghi, consoles the family of the unknown deceased. The 1-hour 33-minute long movie seems to take up the pace within few minutes of its start and the peppy title song, 'Friend zone' by music maestro, A R Rehman, was introduced within 10 minutes of its start.
Sushant's signature dialogues never fail to put a smile on viewers. The way he teases, Kizzie, for her weird name and makes advancements towards her are all funny in a strange way. Emanuel Rajkumar Jr. aka Manny is played by Sushant, the character is very unique and has been conditioned very well. As the movie progress the love between Manny and Kizzie, gets deeper making it hard for Manny to let the love of his life go. In Manny's company, she discovers there's a world beyond hospitals, medication, pain, and cancer.
Songs Review
The movie has six song tracks, that are mesmerizing and sooths the ears of the listener. The songs mix well with the background story. When we talk about the songs of 'Dil Bechara' its title track, sung and composed by maestro, AR Rahman, come to mind. This song has the simplicity yet complex music of AR Rahman appeal.
'Friendzone'
The title song which comes within few minutes of movie start, gives viewers, a light hearted refreshment. The collaboration of powerhouses like Amitabh Bhattacharya and Rahman, has done wonders. Rehman's track in it the movie has so much to offer to music listeners. The groovy title track has already become chartbusters and is on loop since the playlist from 'Dil Bechara' got released.
Taare Ginn
This song reminds the initial days of A R Rehman when he started his career in Hindi Film Music. This song literally means business the moment you listen to it. Singer, Mohit Chauhan and Shreya Ghosal have done their best and succeed in their efforts. As it is A R Rehman, the instruments are so impressive and lift you up.
Khulke Jeene Ka
The brilliant duo of Shashaa Tirupati and Arijit Singhhas done wonders. In first time the song might not struck you but as you listen to it over and over you will grow on it. It's hard to skip this song. Rahman has done many experimentation with this song which went well for the track and the song goes easy on the ears.
Main Tumhara
With lots of flute work, and Hriday Gattani's great voice, this song calms the senses,the moment you listen to it.
Maskhari
Singer, Hriday Gattani bags another song and this time he teams up with Sunidhi Chauhan. In this 3:11 minutes long song, there are moments where Sunidhi Chauhan sounds out of tune but Hriday's singing saved the track.
Afreeda
The song is little bit disappointing. Sanaa Moussa and Raja Kumari make their appearance in the mandatory rap, singing alaaps , that are disturbingly bad and fails to deliver a fraction of what you'd expect when a stellar artist like Raja Kumari is in credits.
With star cast like Saif Ali Khan, Javed Jaffrey, Swastika Mukherjee ('Paatal Lok'), Saswata Chatterjee ('Kahaani'), Milind Gunaji (2002's 'Devdas'), and Sahil Vaid ('Badrinath Ki Dulhania') in the lead, the movie succeeds to win audience hearts. The movie teaches us to love unconditionally, and the story devotes to the tragedies and triumphs of teens struggling with cancer. Manny who had lost his leg to Osteosarcoma, and Kizzie is suffering from thyroid Cancer, but the love between the two runs deeper, despite the fact that they will never be able to live forever.
The movie is a must watch and successfully brings out the depth in its characters. With Manny's immature yet cute actions it succeeded to win over its audience.