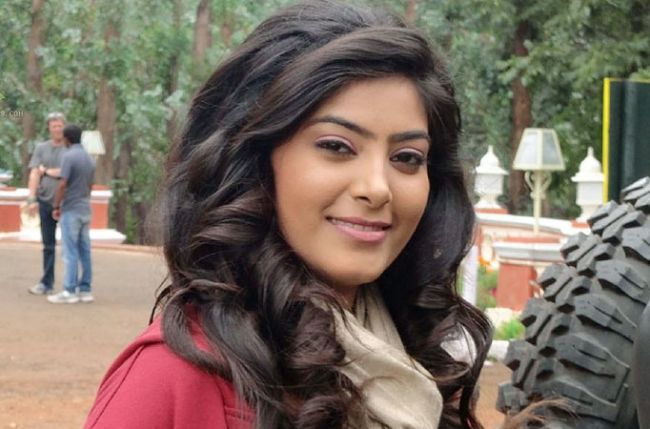 SUHANI SI EK LADKI 30 OCTOBER 2015 WRITTEN UPDATE
The Episode starts with Dadi worrying as Gauri's burn mark on the face is seen by everyone. Rags asks whats this mark, I can't see her face for a second. Menka closes eyes and says it would be better if she did not remove mask. Suhani asks why did they push her, her eyes are burning. Suhani sees Yuvraaj turning his face away. Menka says no one wants to see her face here. Pratima cares for Gauri. Suhani asks Rags to wear the mask and go to her room. She says whoever has problem here can leave.
Saurabh says I will call doctor. Pratima says wound is very old, doctor can't do anything. Rags says so what, doctor can apply bandage and hide the mark. Suhani asks her to hide her bad activities. Rags asks Suhani to talk with respect. Dadi scolds Rags and Menka. Rags and Menka argue. Dadi sends Gauri with Suhani, and scolds Rags. Rags says something is happening since Gauri came. Dadi asks them not to do wrong thing with Gauri, else she will kick them out of home.
Suhani talks to Gauri and asks why does she cover her face, did she feel bad by Rags and Menka's words. She says I have heard many taunts because of my color, my dad said inner beauty is important, so I have always made my nature better, do you want to become like Rags, who make fun of others, learn to answer them. Gauri says yes. Suhani asks her to say she will answer them. She asks her to learn speaking well in complete sentences. Suhani hugs her and asks her to try to speak. Gauri says I will try. Suhani smiles and leaves. Dadi comes and asks Gauri not to talk to anyone, and demotivates her. Gauri says she will try. Suhani comes to Yuvraaj and says he is same like Rags and Menka. He says no, I don't think like them now.
She asks why did you turn face seeing Mili…. She gets annoyed. He says it was shocking for me, I did not know she is hiding the scars. She says I knew everyone will behave this way, so I removed her mask when there was no one, Gauri is feeling bad of Rags and Menka's words. He says I did not judge her by the scar, believe me. She asks why did you not help Mili. He says when it comes to you, I can fight with everyone, I did not understand what to do in Mili's case, I promise, I will always be with you. He says everything will be fine. She says you are my hero, who makes my mood good always. She hugs him and smiles.
Krishna is brought home. Lalita cries and blames Soumya for Krishna's state. Soumya says it was an accident. Krishna goes to his room. Soumya asks how can Lalita say this infront of Krishna, will I hurt him intentionally. Rakhi argues with Soumya. Murali asks Rakhi to talk with manners. He asks Lalita to give money for Krishna's medicines. Soumya says I have money and gives him. Rakhi and Lalita look at her purse.
Menka jokes on Suhani making sandwich, and says it has scratch so it means you made this for Gauri. Dadi scolds Menka and asks Suhani about Gauri. Suhani says she is better, I m thinking to take her out, she got happy when I asked. Dadi says it can be risky. Suhani says nothing will happen, I will be with her. Yuvraaj receives Soumya's call on landline, and Dadi also receives the call on other call. She hears them. Soumya says sorry, we could not come in party yesterday, as Krishna and I met with an accident. He asks what, are you both fine. She says Krishna got much hurt. He says Suhani and I will come. She says no, I will talk to her. He says call me if you need any help.
Suhani tells Gauri about Soumya and her husband Krishna. She says Krishna is film hero. Gauri says she did not see movie. Dadi comes and tells Suhani about Krishna's accident. Suhani asks what, when did this happen. Yuvraaj comes and Dadi says I heard it on another line. Suhani asks Yuvraaj why did he not tell her. She says she has to meet Soumya. Gauri asks about shopping. Dadi says she will take her. Gauri denies. Suhani asks her to go with Dadi and buy bangles. Gauri holds her hands. Suhani frees her hand and says I will come later.
Suhani and Yuvraaj come to Krishna's home and greet Lalita. Lalita blames Soumya. Suhani says it was not her mistake. Soumya hugs Suhani. She pacifies Soumya and goes to see Krishna.
Dadi calls someone and says I m in market with the girl,come fast. Gauri sees the bangles and smiles. Two ladies comes there. Dadi signs her and smiles.
Precap:
Gauri says Dadi… and looks for her. Two ladies go to her and stop her. Gauri gets tensed.