News & Gossip
Sonam Kapoor Miffed With Abhay Deol And Gets Into Twitter Battle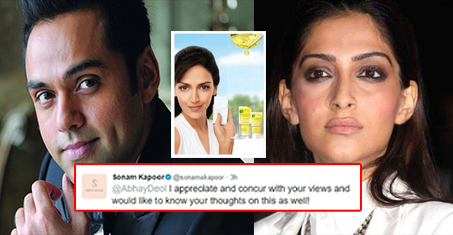 The Dev D Actor Abhay Deol has recently been in news for slamming some of the top stars of Bollywood like Shahrukh Khan, Vidya Balan, Deepika Padukone, Shahid Kapoor and many more for endorsing fairness products. He has also not spared his Aisha co-actor Sonam Kapoor. While most of the celebs didn't pay heed to Abhay's posts but Sonam apparently lost her cool and lashed out at Abhay Deol by posting a photo of Esha Deol, Abhay's cousin, and she is seen endorsing a fairness cream.
Both Abhay and Sonam have been blatantly attacking each other with their tweets on social networking sites.It seems Sonam Kapoor was quite affected by the sting.
Along with Esha Deol's photo she wrote, "I appreciate and concur with your views and would like to know your thoughts on this as well."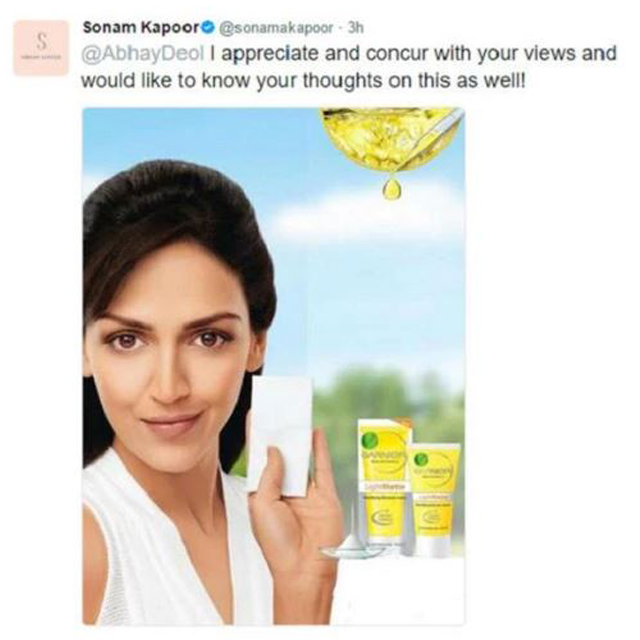 Abhay then gave mild reply, "Is wrong too. For my views read my post."

Sonam seems that she got hurt and she didn't stop tweeting. She wrote, "I shot this campaign ten years ago and didn't understand the ramifications. Thank you for bringing this to the forefront."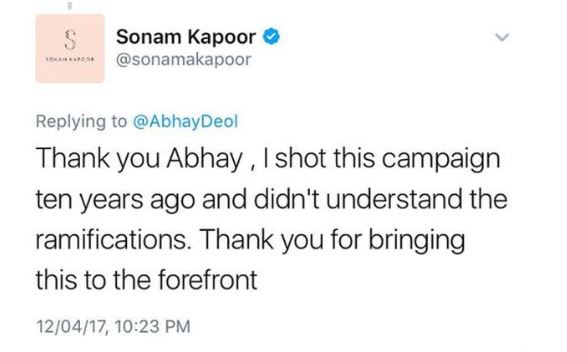 Abhay then replied, "More power to you @sonamakapoor maybe you can use your power as well to take this further than the forefront."

Later on, Sonam got totally miffed and then she deleted all the tweets. Quite interesting!! Isn't it?
But you are lucky as we have the screenshot of Sonam's deleted conversation above.
Well, we hope that in future Sonam comes out with more matured views and opinions rather than regretting on what she tweets and then delete it.