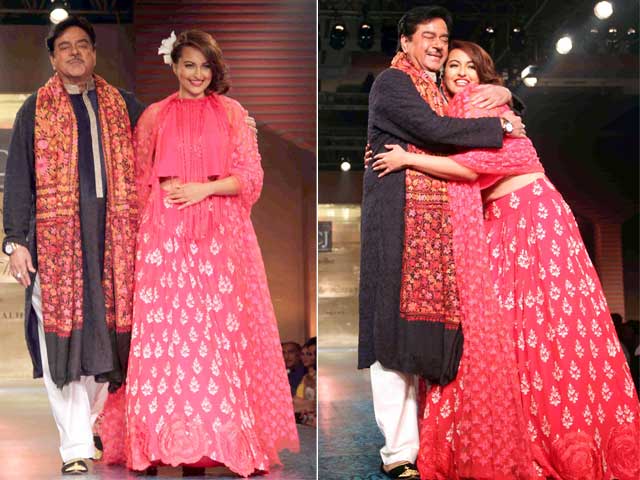 Sonakshi Teaches Father Shatrughan Sinha to 'Walk'
"DADDY DEAREST MAKES HIS DEBUT ON THE RAMP. HE SAID THERE WAS A TIME WHEN HE TAUGHT ME HOW TO WALK, AND TODAY I WAS TEACHING HIM!!! TOO MUCH AWWWW HAPPENED," SONAKSHI TWEETED ALONG WITH A PHOTOGRAPH OF HERSELF AND HER FATHER HUGGING EACH OTHER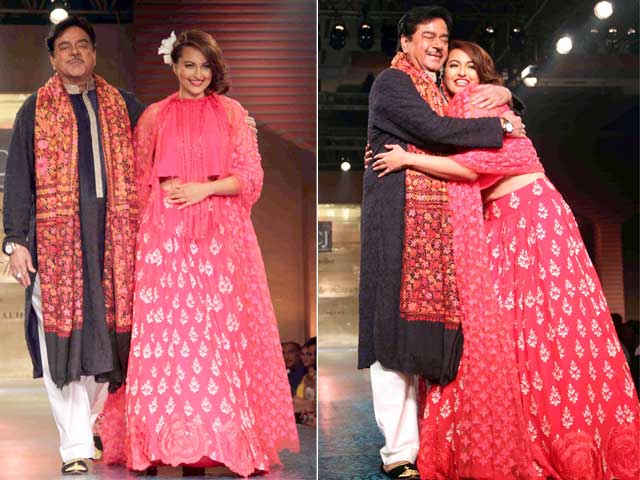 For Sonakshi Sinha and Shatrughan Sinha, sashaying down the ramp at a fashion show for a cause here turned out to be an emotional experience as the senior 'Shotgun' reminisced about the days when he taught his little girl how to walk.
The actress wrote on Instagram
Daddy dearest makes his debut on the ramp. He said there was a time when he taught me how to walk, and today i was teaching him, too much awwww happened
The father-daughter pair walked in designer creations at 'Mijwan – The Legacy', organised by Shabana Azmi's NGO Mijwan Welfare Society (MWS), for empowerment of women in Uttar Pradesh.
Apart from Sonakshi and Shatrughan Sinha, the other celebrities who walked the ramp included Amitabh Bachchan, his wife Jaya, daughter Shweta and son Abhishek; Anil Kapoor and daughter Sonam, and Javed Akhtar and son Farhan, among others.