News & Gossip
Shakuntala Devi Movie Review: Super talented Vidya Balan mesmerizes as 'human computer'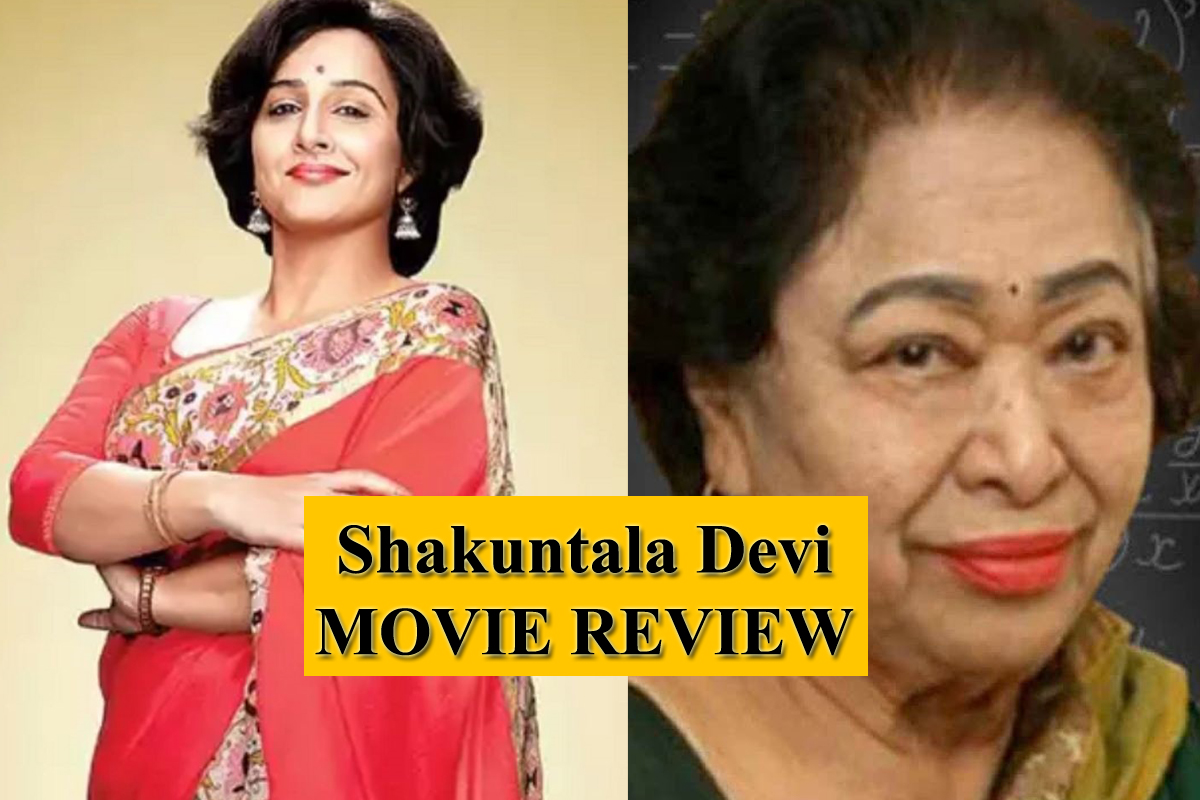 Movie – Shakuntala Devi
Cast – Vidya Balan, Jisshu Sengupta, Sanya Malhotra, Amit Sadh, Prakash Belawadi, Sheeba Chaddha
Director – Anu Menon
Duration – Two hours seven minutes
Where to Watch – Amazon Prime Video
Rating – 3.5
A movie inspired by the real life events of human computer Shakuntala Devi, the renowned mathematician, who was known for her genius at solving complex mathematical problems in record time that earned her the title of 'Human Computer'. The cinematic representation of the life of the maths genius also tries to lens the ordinary struggles of an extraordinary woman in the roles of- a woman in 1950's, a wife, a mother, a fierce feminist who lived by her own rules and goes by her philosophy of life 'Why should I be normal, when I can be amazing?'
Review: 'Shankuntala Devi' isn't just a biography of a mathematician who excels at solving complex maths problems but also her ability to solve life's intricate complexities especially her life as a mother and a woman. It is always delight to peek into the lives of real life geniuses and get awestruck by their remarkable abilities that are super human. This movie too leaves its audience in awe when this child prodigy at age five solves difficult math problems for 18 years old.
Vidya Balan playing Shakuntala Devi has proved to be a perfect choice for the makers. Vidya is someone who can breathe life in any role by her cinematic genius. In this movie too she could be seen living the life of a care free person while beating computers with her genius at work.
With 107-minute run time, Shakuntala Devi tries to capture every bit of her life but still left the audiences wishing more to watch Shakuntala Devi in action. As it's based on the life of a mathematic genius, the makers haven't put unnecessary twists and turns just for the sake of engaging their audience.  As maths problem with a right calculation brings solution to the table, Shakuntala Devi, also teaches us to solve life problems with a right attitude.
While showcasing her mathematic genius the movie also delves into her string of troubled relationships – with her parents, the men in her life and finally her strained relationship with her daughter, Anupama (Sanya Malhotra).
The first hour of the movie is fun watch Vidya in the avatar of a human computer, where in 1050's London the actress tries to fit in and pulls off her shows despite all the odds. Her Spanish friend Javier (Luca Calvani), whom she met in London, transforms our 'desi' Indian genius, bringing out her vivacious nature. She experiences her first heart break in the form of Javier as he left for Spain, tells Shakuntala that  she doesn't need him anymore which doesn't go down well with our vocalist of feminism, posing a question to her Spanish friend "why do men always want women to need them?" In the later part of the movie, our star of the show does find love in the form of Paritosh Banerji (Jisshu Sengupta) who is an IAS officer. Head over heels in love, Shakuntala, jumps right into the moment and proposes marriage to him. This maths whiz, who has never experienced difficulty with numbers, finds motherhood tough with shows all over the world, she is compelled to make some difficult choices, thus further, strains her relationship with her daughter.
Direction
Director Anu Menon has marveled the directorial part of the film and has successfully brought to us the enthralling story of a woman that is hard to look away. However, at times it seems like the narrative was rushed little bit to showcase the successions and achievement of this maths whiz.
Songs
Soundtracks by music director, Sachin-Jigar are foot tapping, the one to linger on is 'Jhilmil Piya', sung in the beautiful voice of Benny Dayal, Monali Thakur, and pen down by lyricist, Priya Saraiya). The movie has total of four songs, 'Pass Nahi Toh Fail Nahi', 'Rani Hindustani', 'Paheli', 'Jhilmil Piya'. The last song of the movie 'Pass Nahi Toh Fail Nahi' by 'Sunidhi Chauhan' draws the curtains in, summing up the spirit of both the film and our main character.
Vidya Balan has marveled as 'Shakuntala Devi' on-screen and has beautifully captured the essence of the character. Though, the movie is primarily based on its central character, Shakuntala Devi, its supporting cast, however, doesn't cease to draw our attention and with them the audience get to see the nature and evolution of Shakuntala Devi, not just as a human computer but also as a human being.