News & Gossip
Shahrukh Khan FINALLY Addresses His Old Tiff With Salman Khan!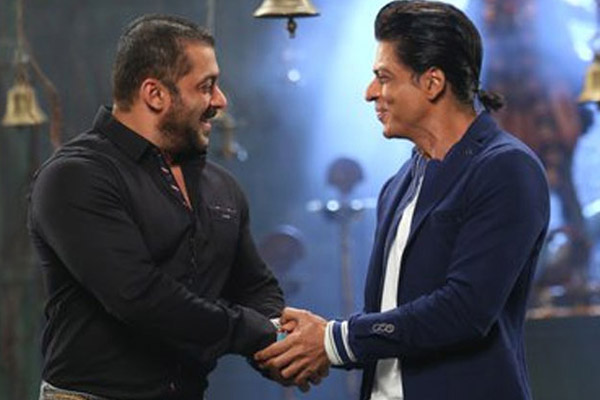 Fans of Salman Khan and Shah Rukh Khan are super happy now that the two superstars are on good terms. A few years back, they had a fallout, post which they stopped speaking to each other. But the duo sorted their differences recently and now, they are the best of friends. They have been tweeting about each other's movies and SRK has even appeared on Salman Khan's Bigg Boss. Apart from that, Shah Rukh will also be a part of Salman Khan's Tubelight. And while they have become close, the superstars are ashamed about what had happened between them and what was written about them.
Shah Rukh Khan even mentioned how such incidents are blown out of proportion when it happens with stars. As the superstar revealed in an interview to a leading daily saying, "Yaar, mein sabse ladta nahin hoon! I cannot hold a grudge against anyone. Life has given me so much that I always love everyone. It's just that I am an emotional person. The names you're talking about – Pritish Nandy and Arjun Rampal… mera kissi se jhagada nahin hua hai. I have no idea what you are talking about unless something of that sort is written in the media." He also added that "Just recently, while Salman and I were shooting for Tubelight, we were feeling ashamed of whatever was published about us over the years. When not-so-good things happen with our stars, it is blown out of proportion. We are also like common people. Even today I may disagree with Salman or anyone else. At times, we may like or dislike someone's actions. It's just the point of view that varies."
After having made a comment on his life as a star, he said, "Having achieved stardom, there are a few things which I do not like but I can't fight against that. For instance, if I am with my family and children and do not want photographers to click their photos, I still have to patiently find my way out. I can't just enjoy stardom, I also have to take care of other things. But being a public figure, I can't complain. Over the years, I have learned to be patient and manage my public life as well."
Ever since Shah Rukh Khan and Salman Khan have reunited, the two have been supporting each other – be it their films or any other issue. Fans were waiting for them to finally resolve their differences and become friends. Well, we are just glad that the two Khans are back together!