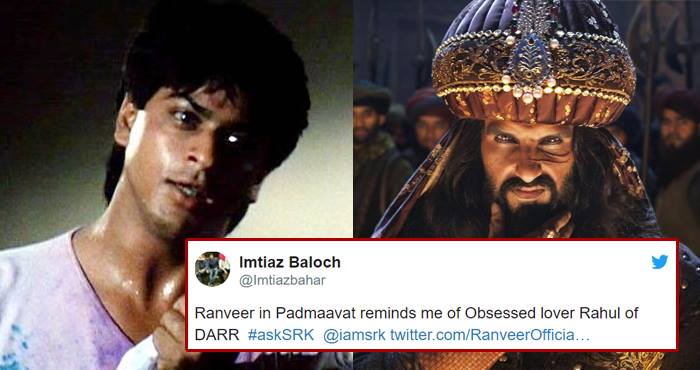 In Padmaavat Ranveer Singh essayed the role of Alauddin Khilji who was obsessed with the beauty of queen Padmavati who happens to be wife of Rajput ruler Maharawal Ratan Singh. Ranveer recieved unexpected response and appreciation for his performance. Once while talking to leading daily Ranveer said that he often use to wonder how the audience will react after seeing him as the Sultan. He said-
"I did think about how the audience will perceive me. The Indian audience in all their generosity, when they love a character, the love gets transferred onto the actor that plays the part. So, my thought was – will the reverse happen here? Where, if they hate my character – which is what we are trying to achieve – are they going to transfer the hate onto me? But I wanted to play antagonist once in my career – why not do it with Mr Bhansali?"
After watching Padmaavat, fans started comparing Khilji's character with SRK's Darr Character. See the tweets below:
https://twitter.com/RaoJac/status/963916730220318720
https://twitter.com/Imtiazbahar/status/959385456243769345
Can't take eyes of Ranveer Singh as Khilji. Such an intense performance that we can't even stop loving his role of evil. There was one SRK in Darr AND here is one RS in Padmavat. Roles' beyond words #PadmaavatReview #Khilji #Khalibali #SanjayLeelaBhansali #RanveerSingh #Padmavat

— | فرحان (@fanu_tweets) January 31, 2018
https://twitter.com/Insane_Suraj/status/958383013787676673
For any actor it is honored to compare his work with King Khan-Shahrukh Khan. During one of the press conference, Ranveer was asked about the same, his reply touched many hearts. He said-
"I have been acting in movies for about seven-and-a-half years and from my very first film, people have been drawing comparisons with Shah Rukh Khan. I don't think there's any basis for it. He is a living legend. You can't even take my name in the same breath as him. He has achieved and contributed a lot to Hindi cinema. He is a game-changer in so many ways. Like I always say, even if I can achieve an iota of what he has managed to do, I will consider that to be a genuine achievement."
This made people go 'Awww..!'. What you have to say about Ranveer's reply? SHare your views in comment section below and stay tuned with us for more interesting featured stories and latest Bollywood updates.