Sanjay Dutt daughter Trishala Dutt who is from his first wife Richa Sharma shares an amiable bond with her father. Sanjay Dutt is not only a caring and doting father but also a friend and brother to his daughter.
Trishala who stays in NYC stays connected with his family through messages and video calls. She recently had a video chat with his father and when she didn't reply to one of his questions, he reacted in a different way. Trishala shared the screenshot of the video call.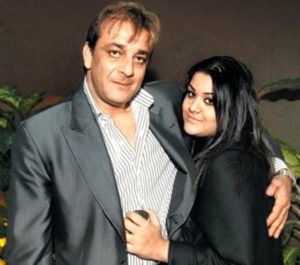 She writes on her Instagram account, "the look I get when asked if I'm seeing anybody and possibly hiding it from him ‍♀️☠️ Love you papa dukes! @dutt1  you always make me smile and laugh #fatheranddaughter#facetimechronicles #papadukes#andImBillythekid #hiiiiii # # #"
Aww..that's so sweet of Trishala.
Check the screenshot of the video call below.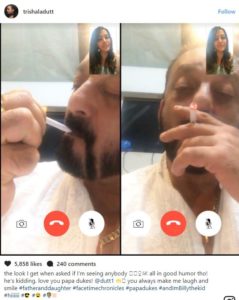 Apparently, Sanjay Dutt asked his daughter about her boyfriend and when she was found hiding about her boyfriend, Sanjay behaved in this way.