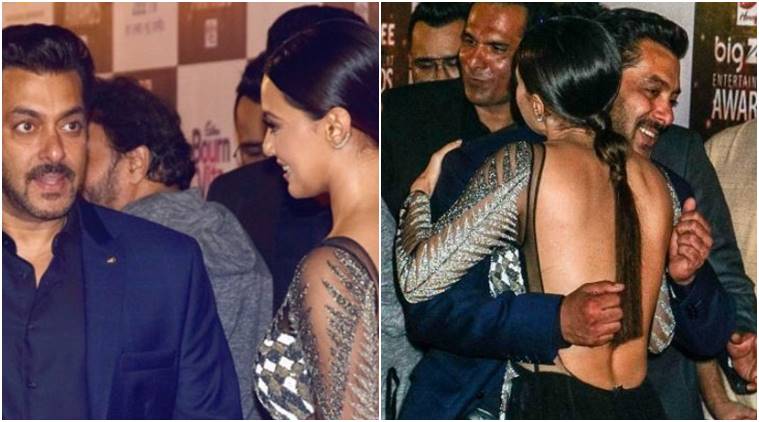 Salman Khan and Sana Khan met at an award function a couple of days ago and like every other celebrities, they exchanged a simple hug. Well, the internet saw something unsual in the hug and it quickly went viral. In the viral video, Salman Khan was seeing hugging Sana Khan with his fists closed. A lot of people stated that Salman Khan might be uncomfortable hugging the actress as she was seeing wearing backless. As soon as Sana Khan got to know about these rumours she showed her displeasure and was quite furious,
Talking about the video, she said,
"I still can't believe that a normal hug was trending, trolling, and rolling. People just blew it out of proportion because [Salman] had a closed fist, and some dumb people even called it an awkward hug."
When she was asked if she thinks that Salman was uncomfortable while hugging her, she said,
"Who the hell am I to make him feel uncomfortable? It's stupid to put somebody down by saying such a nasty thing and showing me in a wrong light. It's not [as if] I went to hug him and he didn't recognize me."
Talking about Salman's closed fist, the actress said,
"Couldn't it be somebody's style? Maybe he hugs like that. I don't know. I think the best person [whom] to ask this would be Salman."

"He has been in the [film] industry for over 25 years, so don't think backless even matters to him… he has seen more than that (laughs). Let's not talk like a five-year-old and make all this sound so big," she added.
There were many people who also stated that she forcefully hugged Salman. To this she said,"
I'm not a psychopath to hug somebody if the person doesn't want to talk to me. I'm not someone who makes people stand and keep talking and falling on their lap. I am on good terms with Salman; we share a rapport, I talk to him on and off, we've met so many times, I've been to his house, and we have worked together on the sets also. So there's nothing to feel awkward [about]."
Talking about the chat they had at the event, Sana said,
"For a moment, Salman didn't recognise me – he literally told me that. [Then] he complimented me that I look very nice. And I said, 'Yes, I've dropped 7kg', and he is like, 'It's showing."
Sana was wearing a backless dress that day, when asked her if maybe that was the reason that the video looked awkward. The actress said,
"Well, could be. Maybe he didn't want my back bronzer to fall on his clothes. He has worked with all sexy and good-looking actresses, who would use bronzer from head to toe, so he knows that. And it's not that he wants to feel me up or I want to feel him up. I am sorry, we have all grown up from that zone. We need to respect each other's space and gestures."