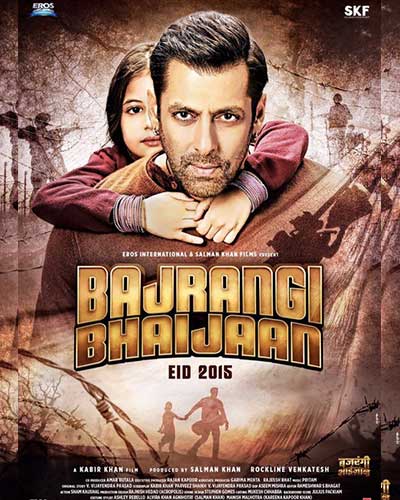 They say Bajrangi is the name of a Hindu God and it cannot be coupled with the word Bhaijaan and that it is hurting Hindu sentiments.
Does bhaijaan mean something bad.
Let me keep this debate upto you. You be the judges and you decide.
The Public Interest Litigation, filed by Chitrakoot-based social activist Anil Pradhan, in the Allahabad High Court, has alleged that the movie contained scenes which could "hurt religious sentiments of the majority community".
Scheduled for release on Idd, the movie tells the story of a young girl from Pakistan, who strays into Indian territory and faces tremendous difficulties on account of her being speech-impaired.
Superstar Salman Khan has dismissed a legal notice slapped on him and the makers of his upcoming film "Bajrangi Bhaijaan" saying that it does not bother him.
"It (legal notice) doesn't bother me. I don't think any religious group could think like this, as religion teaches to follow and be respectful towards other religion. Every religion respects other person's religion," Salman told reporters here last night at a song launch event of his film.
"I don't think any religious group can protest over the title. Don't malign them. Islam means peace. Tell me one group that is against peace and harmony," he said.
The film, which also features Kareena Kapoor and Nawazuddin Siddiqui, is scheduled for release on July 17.
The PIL, in which the Ministry for Information and Broadcasting, the film's producers Yashraj Films and other members of the star cast have been named as parties, is likely to come up for hearing later this week.