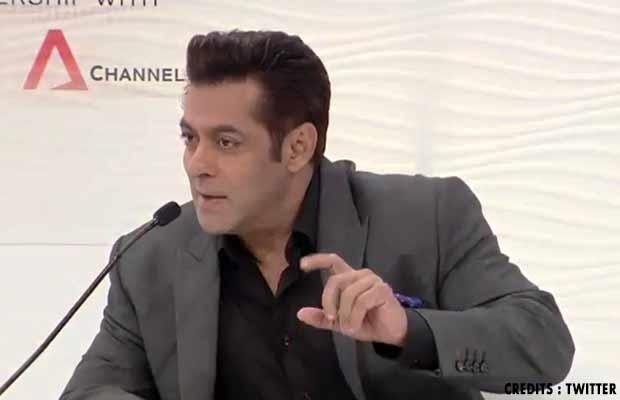 India's biggest Bollywood actor in demand Salman Khan speaks up about his failures in life! Salman had shared an honest conversation with Shekhar Gupta, the Chairman, and Editor-in-chief at Hindustan Times Leadership Summit in Delhi. The conversation included from the latest Padmavati controversy to the casting couch. However, the most interesting thing turned up is Salman's take on failure in the industry.
When Salman was asked, "What is it that keeps you going in your tough time and how do you know with failure?" The Editor-in-chief Shekhar has corrected and specified 'professional' failure instead of failure in 'love'. Salman sounded very witty saying, "The unlucky you are in love, lucky you are actually!"
Coming to the answer to the question, Salman Khan stated that it's difficult to deal with any kind of failures. He also uttered, "But from where I come, everything for me is a plus. Today whatever I am— I am plus. When you are low, sometimes you feel why are you being targeted? Aisa kya hai joh maine kiya hai joh kisi aur ne nahi kiya hai?"
However, when he sees his watchman working double shifts, he tells himself, "Go back home and enjoy your life!" He added, "If after having so much you are depressed. You are the most ungrateful person on planet Earth! I have got the most amazing life! My parents are hale and hearty. My brothers and sisters doing well. Fans love us love us. So we are blessed!"
What if this fame is taken away?
The "Tiger Zinda Hai" actor said, "If this all goes away, I'll be sad but with the life, we've seen… I don't think even 99% of the population of our country has seen this kind of pleasure or have seen this kind of lifestyle, this love, and relation. Nobody. So I think we should enjoy it."
What a beautiful view on failure!
Share your thoughts about the same. Put your comments in the section below. Don't forget to share the articles with your friends. Stay tuned for more updated news.