News & Gossip
Ranveer Singh performs 'Choli ke peeche', 'Jumma Chumma'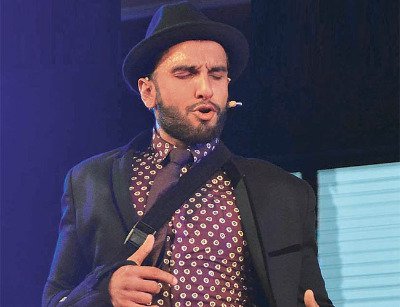 Ranveer Singh performs 'Choli ke peeche', 'Jumma Chumma'
Speaking at the India Today Conclave 2015, the 'Band Baaja Baraat' actor Ranveer Singh said how he chased Bollywood dream and his passion for acting, his idol Amitabh Bachchan. In his unique style, he performed in some hit Bollywood numbers of the 90's and enthralled the audience. He also talked how over the years Bollywood evolved. Ranveer entertained the audience with his performance on chartbusters like 'Choli ke Peeche Kya Hai', 'Ae ji Oji' and shaking a leg on Jumma Chumma.
Speaking at the event, he talks about in and out of Bollywood. talked about landmark of Indian cinema, 'Dilwale Dulhaniya Le Jayenge', his first crying memory in cinema hall with 'Rangeela', how the economy showed a growth with 'Hum Aapke Ke Hain Kaun', how Sanjay Dutt performed stupendous in cult movie, 'Vaatsav'.
The 'Gunday' actor said that he had seen Govinda starrer, 'Raja Babu' 80-90 times. He said Govinda was literally the Hero No.1 and the total paisa wasool actor. He talked about his all time favourite Anil Kapoor.
The audience broke into laughter with his interesting caricatures and lively performances.
Speaking about Big B's influence on his career, Ranveer said, "Amitabh Bachchan has had a serious great influence on Indian pop culture and on me. He is an icon, a living legend in the truest sense. My earliest and fondest memories of engaging with Hindi cinema are all directly related to Amitabh Bachchan.
"My dadi (grandmother) used to say that I should grow up and become a hero like him. Once at a party, I was dancing and the crowd gathered and they started whistled and clapped. That was my first experience of being a performer and the song was Amitabh Bachchan's famous number 'Juma Chumma'," Ranveer told a session at the India Today Conclave 2015 here.
"The question of becoming a hero was getting bigger and serious for me day by day. I was an outsider, so I felt I didn't have a chance. But I wanted to be close to acting so I opted for creative writing. I went to America to pursue that and in one class I got to enact the epic 'Mere paas maa hai', a scene of 'Deewaar'. It was again Mr Amitabh Bachchan at a turning point in my life. No one there understood what I said but they all clapped. That was again a time I realised that I loved being a performer. I told my father that I just want to act. He asked me to complete graduation and then chase my dream. That day changed it all for me. I decided I will try my hand at becoming a Bollywood hero," he said.
Ranveer said the 72-year-old actor has influenced many in the film industry,"In coming years, I believe Bollywood will be defined as BB and AB – Before Bachchan and After Bachchan."