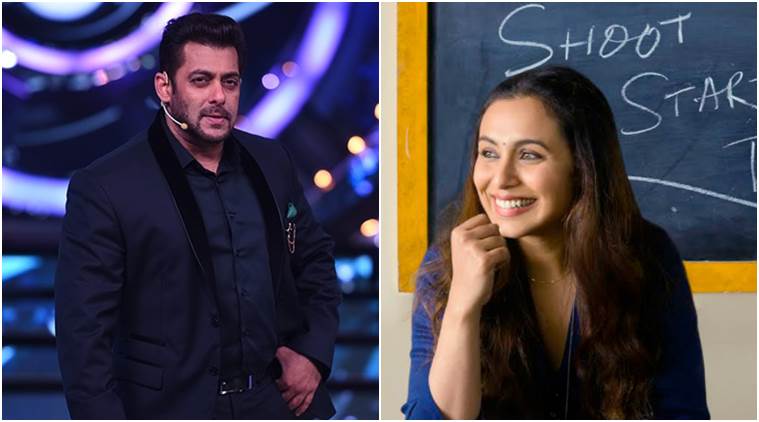 Not just that, Rani Mukerji even probes Salman Khan's Hichki related to his marriage
Rani Mukerji is all set to grace the sets of Bigg Boss 11. She will be joining Salman Khan for the Weekend Ka Vaar episode. In the episode Rani literally taught Salman a lesson or two. Check it out:
https://www.instagram.com/p/BdnFp0PjIqQ/
Rani, who plays a teacher in her upcoming film Hichki took her job pretty seriously and asked Salman a few tough questions as well.
In this hilarious episode, Rani stumped Salman on marriage and parenthood.
It's a known fact that Rani and Salman are great friends. This it goes without saying that they had a blast on the sets. The two are known to be firecrackers given their sense of humour and spontaneity and Rani and Salman belted out a super entertaining episode set to air tonight.
"Everyone expected the episode to be wild and it was a mad, fun shoot. Rani was at Bigg Boss to promote her next Hichki that celebrates the human spirit of overcoming one's weakness. While introducing the film, Rani suddenly brought up Salman's Hichki when it comes to marriage. Salman was stumped and he was in splits. The two kept on laughing on this," said a source close to Bigg Boss.
The informer also added, "Rani did not stop here. She went on to say that Salman's hichki on marriage is here to stay and everyone has asked him this and added that Salman should now just straight become a father and skip the process of marriage. Salman again was in splits for minutes before he said it's a better idea than marriage. Rani had a ball pulling Salman's leg and he kept on laughing through the conversation. Rani also went on to say that she wants Salman to become a father soon so that Adira could play with his child and that the child should look as good as he does. Salman had the funniest answer to Rani. He wondered what if the child went on his/her mother. The two again burst our laughing. Audiences were in splits throughout this conversation. They too had a blast."
Salman definitely was stumped by Rani with such tough questions.
Coming back to Hichki, Rani plays the role of Naina Mathur who has a nervous system disorder, Tourette Syndrome that forces an individual to make involuntary repetitive movements or sounds. Hichki focusses on turning disadvantages into opportunities and staring down at challenges that life throws at one and ultimately winning over them. It is also a subtle reminder about discrimination that exists in our society and has become a part of our daily lives. It highlights this through the story of Naina, who faces discrimination from our society that firmly believes she cannot be a teacher because of her disorder.
Directed by Siddharth P Malhotra and produced by Maneesh Sharma, the movie is set to touch the hearts of audiences when it releases on February 23.